Self-Adhesive Medallions and Sissy Bar Upright Inserts
Part Number:
91807-85
Works great on derby covers, timer covers, medallion plate-style sissy bar uprights and chrome battery covers. Fits low and tall insert-style H-D® Sissy Bar Uprights.
Eagle with Bar & Shield Logo.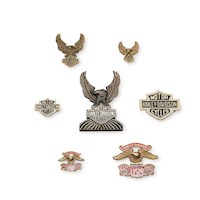 This item can only be used on the following Harley-Davidsons.
DYNA

FXD (2000-2005)
FXDC (2005)
FXDCI (2005)
FXDF (2012)
FXDF103 (2012)
FXDI (2004-2005)
FXDL (2014-2016, 2000-2005)
FXDLI (2004-2005)
FXDS (2000)
FXDS CONV (2000)
FXDWG (2000-2005)
FXDWG2 (2001)
FXDWG3 (2002)
FXDWGI (2004-2005)
FXDX (2000-2005)
FXDXI (2004-2005)
FXDXT (2001-2003)
FXR4 (2000)

Softail

FLS (2012-2016)
FLS103 (2012-2013)
FLSS (2016)
FLST (2006)
FLSTC (2000-2016)
FLSTC ANV (2008)
FLSTC103 (2012-2013)
FLSTC-ANN (2013)
FLSTCI (2001-2006)
FLSTF (2000-2016)
FLSTF ANV (2008)
FLSTF103 (2012-2013)
FLSTFB (2010-2016)
FLSTFB103 (2012-2013)
FLSTFB-ANN (2013)
FLSTFBS (2016)
FLSTFI (2001-2006)
FLSTFI-ANN (2005)
FLSTFSE (2005)
FLSTFSE2 (2006)
FLSTI (2006)
FLSTN (2005-2016)
FLSTN ANV (2008)
FLSTN103 (2012-2013)
FLSTNI (2005-2006)
FLSTNSE (2014-2015)
FLSTS (2000-2003)
FLSTSC (2005-2007)
FLSTSCI (2005-2006)
FLSTSE (2010)
FLSTSE2 (2011)
FLSTSE3 (2012)
FLSTSI (2001-2003)
FXS (2011-2013)
FXS103 (2012-2013)
FXSB (2013-2016)
FXSB103 (2013)
FXSBSE (2013-2014)
FXST (2000-2008)
FXSTB (2000-2009)
FXSTBI (2001-2006)
FXSTC (2007-2010, 2000)
FXSTC ANV (2008)
FXSTI (2001-2006)
FXSTS (2000-2006)
FXSTSI (2001-2006)
FXSTSSE (2007)
FXSTSSE2 (2008)
FXSTSSE2 A (2008)
FXSTSSE3 (2009)

Sportster

XL1200 (2000-2003)
XL1200C (2000-2016)
XL1200C AN (2008)
XL1200CA (2013)
XL1200C-AN (2013)
XL1200CB (2013)
XL1200CP (2011-2013)
XL1200L (2006-2012)
XL1200L AN (2008)
XL1200N (2007-2012)
XL1200R (2004-2008)
XL1200S (2000-2003)
XL1200T (2014-2016)
XL1200V (2012-2016)
XL1200X (2010-2016)
XL50 (2007)
XL883 (2004-2008)
XL883C (2000-2009)
XL883HUG (2000-2003)
XL883L (2005-2016)
XL883N (2009-2016)
XL883R (2002-2003, 2005-2008)
XLH1200 (2000-2003)
XLH883 (2000-2003)
XLH883HUG (2000-2003)