Remote Control Garage Door Opener Kit
Part Number:
91569-01
Operate your automatic garage door opener without leaving your motorcycle seat or fumbling in your pocket for the remote control. Compatible with most brands of automatic openers, this kit allows you to operate your door by cycling the bike's high-beam switch. The hidden transmitter splices into your bike's wiring harness and is powered by your vehicle battery, so there are no transmitter batteries to replace. When your key is switched off the transmitter is disabled, providing added garage security if you park your bike outside. The signal is sent to the in-garage receiver that plugs into a standard 110-volt outlet and is wired to the automatic opener. The receiver's rolling code technology provides additional security. Kit includes one transmitter and one receiver. Individual components are available to equip additional motorcycles and garages. This kit allows owners of the Remote Garage Door Opener P/N 91558-01B to equip each of their Harley-Davidson® motorcycles with a remote transmitter. This additional receiver permits the owner of the Remote Garage Door Opener P/N 91558-01B to operate more than one garage door opener from a single transmitter. Operate your Harley-Davidson Remote Garage Door Opener from your car. This Key Fob fits on your key ring and works with the rolling code technology of the receiver to provide added security. Because up to eight devices can be programmed for use with a single Remote Garage Door Opener Receiver, everyone in your family can have access. Two buttons can be set for use on multiple Remote Garage Door Openers. Indicator light shows Fob is working. Batteries included.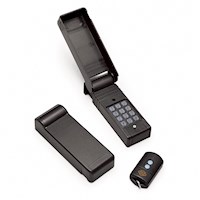 This item can only be used on the following Harley-Davidsons.
DYNA

FLD (2012-2016)
FLD103 (2012-2013)
FXD (2007-2010, 2000-2005)
FXDB (2007-2016)
FXDBI (2006)
FXDBP (2014)
FXDBP103 (2013)
FXDC (2007-2014, 2005)
FXDC ANV (2008)
FXDC-ANN (2013)
FXDCI (2005-2006)
FXDF (2008-2016)
FXDF103 (2012-2013)
FXDFSE (2009)
FXDFSE2 (2010)
FXDI (2004-2006)
FXDI35 (2006)
FXDL (2014-2016, 2007-2009, 2000-2005)
FXDL ANV (2008)
FXDLI (2004-2006)
FXDS (2000)
FXDS CONV (2000)
FXDSE (2007)
FXDSE2 (2008)
FXDSE2 ANV (2008)
FXDWG (2010-2016, 2007-2008, 2000-2005)
FXDWG ANV (2008)
FXDWG103 (2012-2013)
FXDWG2 (2001)
FXDWG3 (2002)
FXDWGI (2004-2006)
FXDX (2000-2005)
FXDXI (2004-2005)
FXDXT (2001-2003)

Softail

FLS (2012-2016)
FLS103 (2012-2013)
FLSS (2016)
FLST (2006)
FLSTC (2000-2016)
FLSTC ANV (2008)
FLSTC103 (2012-2013)
FLSTC-ANN (2013)
FLSTCI (2001-2006)
FLSTF (2000-2016)
FLSTF ANV (2008)
FLSTF103 (2012-2013)
FLSTFB (2010-2016)
FLSTFB103 (2012-2013)
FLSTFB-ANN (2013)
FLSTFBS (2016)
FLSTFI (2001-2006)
FLSTFI-ANN (2005)
FLSTFSE (2005)
FLSTFSE2 (2006)
FLSTI (2006)
FLSTN (2005-2016)
FLSTN ANV (2008)
FLSTN103 (2012-2013)
FLSTNI (2005-2006)
FLSTNSE (2014-2015)
FLSTS (2000-2003)
FLSTSB (2008-2011)
FLSTSC (2005-2007)
FLSTSCI (2005-2006)
FLSTSE (2010)
FLSTSE2 (2011)
FLSTSE3 (2012)
FLSTSI (2001-2003)
FXCW (2008-2009)
FXCWC (2008-2011)
FXS (2011-2013)
FXS103 (2012-2013)
FXST (2000-2008)
FXSTB (2000-2009)
FXSTBI (2001-2006)
FXSTC (2000, 2007-2010)
FXSTC ANV (2008)
FXSTD (2000-2007)
FXSTDI (2001-2006)
FXSTDSE (2003)
FXSTDSE2 (2004)
FXSTI (2001-2006)
FXSTS (2000-2006)
FXSTSI (2001-2006)
FXSTSSE (2007)
FXSTSSE2 (2008)
FXSTSSE2 A (2008)
FXSTSSE3 (2009)

Sportster

XL1200 (2000-2003)
XL1200C (2000-2016)
XL1200C AN (2008)
XL1200CA (2013)
XL1200C-AN (2013)
XL1200CB (2013)
XL1200CP (2011-2013)
XL1200L (2006-2012)
XL1200L AN (2008)
XL1200N (2007-2012)
XL1200R (2004-2008)
XL1200S (2000-2003)
XL1200T (2014-2016)
XL1200V (2012-2016)
XL1200X (2010-2016)
XL50 (2007)
XL883 (2004-2008)
XL883C (2000-2009)
XL883HUG (2000-2003)
XL883L (2005-2016)
XL883N (2009-2016)
XL883R (2005-2008, 2002-2003)
XLH1200 (2000-2003)
XLH883 (2000-2003)
XLH883HUG (2000-2003)
XR1200 (2009-2010)
XR1200X (2011-2012)

Street

XG500 (2015-2016)
XG750 (2015-2016)

Touring

FLHR (2000-2016)
FLHR/I (2007)
FLHR103 (2011-2013)
FLHR4 (2008)
FLHR-ANN (2013)
FLHRC (2007-2013)
FLHRC ANV (2008)
FLHRC103 (2011-2012)
FLHRCI (2000-2007)
FLHRI (2000-2006)
FLHRS (2003-2008)
FLHRS/1 (2007)
FLHRSE3 (2007)
FLHRSE4 (2008)
FLHRSE4 AN (2008)
FLHRSE5 (2013)
FLHRSE5-AN (2013)
FLHRSE6 (2014)
FLHRSEI (2002)
FLHRSEI2 (2003)
FLHRSI (2004-2006)
FLHT (2000-2009)
FLHT/I (2007-2009)
FLHTC (2000-2005, 2007-2013)
FLHTC/I (2007)
FLHTC103 (2011-2012)
FLHTCI (2000-2006)
FLHTCSE (2004)
FLHTCSE2 (2005)
FLHTCU (2007-2016)
FLHTCU ANV (2008)
FLHTCU/I (2007)
FLHTCU/SC (2007-2008)
FLHTCU103 (2011-2013)
FLHTCU3 (2008)
FLHTCU3 AN (2008)
FLHTCU8CVO (2013)
FLHTCUH (2009)
FLHTCUI (2000-2006)
FLHTCUI/SC (2000-2006)
FLHTCUL (2015-2016)
FLHTCUSE (2006)
FLHTCUSE2 (2007)
FLHTCUSE3 (2008)
FLHTCUSE4 (2009)
FLHTCUSE5 (2010)
FLHTCUSE5- (2010)
FLHTCUSE7 (2012)
FLHTCUSE8 (2013)
FLHTCUSE8A (2013)
FLHTI (2003-2006)
FLHTK (2010-2016)
FLHTK W/SC (2011)
FLHTK-ANN (2013)
FLHTKL (2015-2016)
FLHTKSE (2014-2016)
FLHX (2006-2016)
FLHX ANV (2008)
FLHX/I (2007)
FLHX103 (2011-2012)
FLHXI (2006)
FLHXS (2014-2016)
FLHXSE (2015-2016, 2010)
FLHXSE2 (2011)
FLHXSE3 (2012)
FLHXXX (2010-2011)
FLTR (2007-2009, 2000-2003)
FLTR ANV (2008)
FLTR/I (2007)
FLTRI (2000-2006)
FLTRSE3 (2009)
FLTRSEI (2002, 2000)
FLTRSEI2 (2001)
FLTRU (2016, 2011-2013)
FLTRU103 (2011-2013)
FLTRUSE (2015-2016, 2011)
FLTRX (2010-2013, 2015-2016)
FLTRX103 (2013, 2011)
FLTRXS (2015-2016)
FLTRXSE (2012)
FLTRXSE2 (2013)
FLTRXSE2-A (2013)

Trike

FLHTCUTG (2009-2016)
FLHTCUTG-A (2013)
FLRT (2015-2016)

V-Rod

VRSCA (2002-2006, 2000)
VRSCA 98 (2002-2004, 2006)
VRSCA98 (2005)
VRSCAW (2007-2010)
VRSCAW 105 (2007-2008)
VRSCAW ANV (2008)
VRSCAWA (2008)
VRSCAWA 10 (2008)
VRSCAWA AN (2008)
VRSCB (2003-2005)
VRSCB 98 (2003-2005)
VRSCD (2006-2008)
VRSCD 105 (2006-2008)
VRSCDA (2008)
VRSCDX (2007-2016)
VRSCDX 105 (2008)
VRSCDX ANN (2012)
VRSCDX105 (2013)
VRSCDXA (2008)
VRSCDXA 10 (2008)
VRSCF (2012-2016)
VRSCF105 (2013)
VRSCR (2006-2007)
VRSCR 105 (2006-2007)
VRSCSE (2005)
VRSCSE2 (2006)
VRSCX (2007)