Titanium Face Gauges
Part Number:
74688-10
Add a rich, custom look to your dash. First featured on the '10 FLHTK Ultra Limited model, these black and icy cool "titanium" numbered gauges feature white LED backlighting and large, easy-to-read numbers for at-a-glance viewing. Gauges are plug-in ready and require no additional splicing or re-wiring for installation. Mileage reinstatement is available through your Dealer. Fits '08-'13 Touring (except Road King®) and Trike models.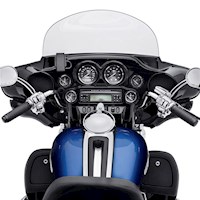 This item can only be used on the following Harley-Davidsons.
Touring

FLHT (2008-2009)
FLHTC (2008-2013)
FLHTCU (2008-2013)
FLHTCUSE3 (2008)
FLHTCUSE4 (2009)
FLHTCUSE5 (2010)
FLHTK (2010-2013)
FLHX (2008-2013)
FLHXSE (2010)
FLHXSE2 (2011)
FLHXSE3 (2012)
FLHXXX (2010-2011)
FLTR (2008-2009)
FLTRSE3 (2009)
FLTRU (2011-2013)
FLTRUSE (2011)
FLTRX (2010-2013)
FLTRXSE (2012)
FLTRXSE2 (2013)

Trike