Spun Aluminum Face Gauges
Part Number:
74554-04
Add a touch of luxury and style to your dash. First featured on the '04 Screamin' Eagle® Deuce™ and Electra Glide models, these Spun Aluminum Face Gauges offer a rich contrast to a chrome console or black inner fairing surface. The gauges feature subtle Harley-Davidson racing orange backlighting for a unique nighttime look. Mileage reinstatement is available through your Dealer.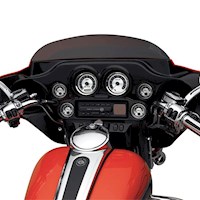 This item can only be used on the following Harley-Davidsons.
Touring

FLHT (2004-2009)
FLHTC (2004-2005, 2007-2013)
FLHTCI (2004-2006)
FLHTCU (2007-2013)
FLHTCUI (2004-2006)
FLHTCUSE (2006)
FLHTCUSE2 (2007)
FLHTCUSE3 (2008)
FLHTCUSE4 (2009)
FLHTCUSE5 (2010)
FLHTI (2004-2006)
FLHTK (2010-2013)
FLHX (2006-2013)
FLHXI (2006)
FLHXSE (2010)
FLHXSE2 (2011)
FLHXSE3 (2012)
FLHXXX (2010-2011)
FLTR (2007-2009)
FLTRI (2004-2006)
FLTRSE3 (2009)
FLTRU (2011-2013)
FLTRUSE (2011)
FLTRX (2010-2013)
FLTRXSE (2012)
FLTRXSE2 (2013)

Trike