Spectra Glo Lighting Wiring Jumpers
Part Number:
69201525
These wiring harnesses are custom made for easy plug-and play-installation of Spectra Glo Light Pods. Plan your installation, and select the matching harness lengths to allow placement of light pods throughout the vehicle. No cutting or splicing is required. Works with Spectra Glo Light Pod Base and Expansion Kits.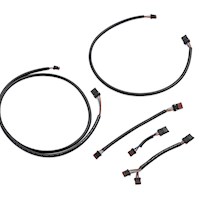 This item can only be used on the following Harley-Davidsons.
DYNA

FLD (2012-2016)
FLDE (2018-2020)
FXBB (2018-2020)
FXBR (2018-2019)
FXBRS (2018-2020)
FXD (2007-2010, 2000-2005)
FXDB (2007-2017)
FXDBI (2006)
FXDC (2005, 2007-2014)
FXDCI (2005-2006)
FXDF (2008-2017)
FXDFSE (2009)
FXDFSE2 (2010)
FXDI (2004-2006)
FXDI35 (2006)
FXDL (2000-2005, 2007-2009, 2014-2017)
FXDLI (2004-2006)
FXDLS (2016-2017)
FXDRS (2019-2020)
FXDS CONV (2000)
FXDSE (2007)
FXDSE2 (2008)
FXDWG (2010-2017, 2007-2008, 2000-2005)
FXDWG2 (2001)
FXDWG3 (2002)
FXDWGI (2004-2006)
FXDX (2000-2005)
FXDXI (2004-2005)
FXDXT (2001-2003)
FXFB (2018-2019)
FXFBS (2018-2020)
FXLR (2018-2020)
FXLRS (2020)
FXR4 (2000)

Other

FLFB (2018-2019)
FLFBS (2018-2020)

Softail

FLS (2012-2017)
FLSB (2018-2020)
FLSL (2018-2020)
FLSS (2016-2017)
FLST (2006)
FLSTC (2000-2017)
FLSTCI (2001-2006)
FLSTF (2000-2017)
FLSTFB (2010-2016)
FLSTFBS (2016-2017)
FLSTFI (2001-2006)
FLSTFSE (2005)
FLSTFSE2 (2006)
FLSTI (2006)
FLSTN (2005-2017)
FLSTNI (2005-2006)
FLSTNSE (2014-2015)
FLSTS (2000-2003)
FLSTSB (2008-2011)
FLSTSC (2005-2007)
FLSTSCI (2005-2006)
FLSTSE (2010)
FLSTSE2 (2011)
FLSTSE3 (2012)
FLSTSI (2001-2003)
FXCW (2008-2009)
FXCWC (2008-2011)
FXS (2011-2013)
FXSB (2013-2017)
FXSBSE (2013-2014)
FXSE (2016-2017)
FXST (2000-2007)
FXSTB (2000-2009)
FXSTBI (2001-2006)
FXSTC (2007-2010)
FXSTD (2000-2007)
FXSTDI (2001-2006)
FXSTDSE (2003)
FXSTDSE2 (2004)
FXSTI (2001-2006)
FXSTS (2000-2006)
FXSTSI (2001-2006)
FXSTSSE (2007)
FXSTSSE2 (2008)
FXSTSSE3 (2009)

Sportster

XL1200C (2000-2019)
XL1200CX (2016-2020)
XL1200L (2006-2011)
XL1200N (2007-2012)
XL1200NS (2018-2020)
XL1200R (2004-2008)
XL1200S (2000-2003)
XL1200T (2014-2017)
XL1200V (2012-2016)
XL1200X (2010-2020)
XL1200XS (2018-2019)
XL50 (2007)
XL883 (2004-2008)
XL883C (2000-2009)
XL883L (2005-2019)
XL883N (2009-2020)
XL883R (2005-2007, 2002-2003)
XLH1200 (2000-2003)
XLH883 (2000-2003)
XLH883HUG (2000-2003)
XR1200 (2009-2010)
XR1200X (2011-2012)

Street

XG500 (2015-2020)
XG750 (2015-2020)
XG750A (2017-2020)

Touring

FLHC (2018-2020)
FLHCS (2018-2020)
FLHR (2000-2020)
FLHRC (2007-2013)
FLHRCI (2000-2006)
FLHRI (2000-2006)
FLHRS (2004-2007)
FLHRSE3 (2007)
FLHRSE4 (2008)
FLHRSE5 (2013)
FLHRSE6 (2014)
FLHRSEI (2002)
FLHRSEI2 (2003)
FLHRSI (2004-2006)
FLHRXS (2017-2020)
FLHT (2000-2009, 2019-2020)
FLHTC (2007-2013, 2000-2005)
FLHTCI (2000-2006)
FLHTCSE (2004)
FLHTCSE2 (2005)
FLHTCU (2007-2019)
FLHTCUI (2000-2006)
FLHTCUL (2015-2016)
FLHTCUSE (2006)
FLHTCUSE2 (2007)
FLHTCUSE3 (2008)
FLHTCUSE4 (2009)
FLHTCUSE5 (2010)
FLHTCUSE6 (2011)
FLHTCUSE7 (2012)
FLHTCUSE8 (2013)
FLHTCUTGSE (2020)
FLHTI (2003-2006)
FLHTK (2010-2020)
FLHTKL (2015-2019)
FLHTKSE (2014-2020)
FLHX (2006-2020)
FLHXI (2006)
FLHXS (2014-2020)
FLHXSE (2015-2020, 2010)
FLHXSE2 (2011)
FLHXSE3 (2012)
FLHXXX (2010-2011)
FLTR (2000-2002, 2007-2009)
FLTRI (2000-2006)
FLTRK (2020)
FLTRSE3 (2009)
FLTRSEI (2000)
FLTRSEI2 (2001)
FLTRU (2016-2019, 2011-2013)
FLTRUSE (2011, 2015-2016)
FLTRX (2010-2013, 2015-2020)
FLTRXS (2015-2020)
FLTRXSE (2018-2019, 2012)
FLTRXSE2 (2013)

Trike

FLHTCUTG (2009-2020)
FLRT (2015-2020)

V-Rod

VRSCA (2002-2006)
VRSCAW (2007-2010)
VRSCB (2004-2005)
VRSCD (2006-2008)
VRSCDX (2007-2017)
VRSCDX ANV (2012)
VRSCF (2009-2017)
VRSCR (2006-2007)
VRSCSE (2005)
VRSCSE2 (2006)
VRSCX (2007)