Halogen Headlamps - Clear Smooth Lens with Reflector Optics
Part Number:
68297-05
Original Equipment on '05-later Harley-Davidson® models, these headlamps feature crystal clear lenses, mirror-finish reflector optics and replaceable halogen bulb. Fits '15-later XG, '00-later XL, XR, Dyna® (except FXDF), FX Softail and '05 VRSCB models equipped with 5-3/4" headlamp. '00-'04 Dyna (except FXDWG) models require Adapter Ring P/N 67883-04.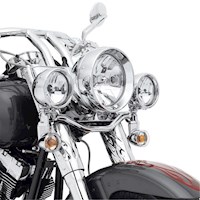 This item can only be used on the following Harley-Davidsons.
DYNA

FLD (2012-2016)
FLD103 (2012-2013)
FXD (2007-2010, 2000-2005)
FXDB (2007-2016)
FXDBI (2006)
FXDBP (2014)
FXDBP103 (2013)
FXDC (2005, 2007-2012)
FXDC ANV (2008)
FXDCI (2005-2006)
FXDF (2008)
FXDI (2004-2006)
FXDI35 (2006)
FXDL (2007-2009, 2000-2005)
FXDL ANV (2008)
FXDLI (2004-2006)
FXDS CONV (2000)
FXDSE (2007)
FXDSE2 (2008)
FXDSE2 ANV (2008)
FXDWG (2000-2005, 2007-2008, 2010)
FXDWG ANV (2008)
FXDWG2 (2001)
FXDWG3 (2002)
FXDWGI (2004-2006)
FXDX (2000-2005)
FXDXI (2004-2005)
FXDXT (2001-2003)

Softail

FXCW (2008-2009)
FXCWC (2008-2011)
FXS (2011-2013)
FXS103 (2012-2013)
FXSB (2013-2016)
FXSB103 (2013)
FXSBSE (2013-2014)
FXST (2000-2008)
FXSTB (2000-2009)
FXSTBI (2001-2006)
FXSTC (2007-2010)
FXSTC ANV (2008)
FXSTD (2000-2007)
FXSTDI (2001-2006)
FXSTDSE (2003)
FXSTDSE2 (2004)
FXSTI (2001-2006)
FXSTS (2000-2006)
FXSTSI (2001-2006)
FXSTSSE (2007)
FXSTSSE2 (2008)
FXSTSSE2 A (2008)
FXSTSSE3 (2009)

Sportster

XL1200 (2000-2003)
XL1200C (2000-2012)
XL1200C AN (2008)
XL1200CP (2011)
XL1200L (2006-2012)
XL1200L AN (2008)
XL1200N (2007-2012)
XL1200R (2004-2008)
XL1200S (2000-2003)
XL1200T (2014-2016)
XL1200V (2012-2016)
XL1200X (2010-2016)
XL50 (2007)
XL883 (2004-2008)
XL883C (2000-2009)
XL883HUG (2000-2003)
XL883L (2005-2012)
XL883N (2009-2016)
XL883R (2005-2007, 2002-2003)
XLH1200 (2000-2003)
XLH883 (2000-2003)
XLH883HUG (2000-2003)
XR1200 (2009-2010)
XR1200X (2011)

Street

XG500 (2015-2016)
XG750 (2015-2016)

V-Rod

VRSCB (2005)
VRSCB 98 (2005)
VRSCD (2006)
VRSCR (2006)