Air Wing Rack LED Light Kit
Part Number:
68271-08A
Custom fit to the Air Wing Tour-Pak Rack, this fast-acting LED Light Kit operates as a supplemental rear running light and brake light. The high, center-mount position places the rear light in the line-of-sight of following vehicles and the bright, fast-acting LED lamps get you noticed. Wiring is concealed inside the rack tubes for a clean, custom installation. Fits '97-'13 Touring models equipped with the Air Wing Tour-Pak Luggage Rack P/N 79179-08 or 53000063. Also fits FLHTCUSE4/5/6/7/8 models with Original Equipment Tour-Pak Rack.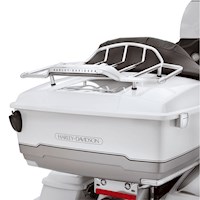 This item can only be used on the following Harley-Davidsons.
Touring

FLHR (2000-2013)
FLHRC (2007-2013)
FLHRCI (2000-2006)
FLHRI (2000-2006)
FLHRS (2004-2007)
FLHRSE3 (2007)
FLHRSE4 (2008)
FLHRSE5 (2013)
FLHRSEI (2002)
FLHRSEI2 (2003)
FLHRSI (2004-2006)
FLHT (2000-2009)
FLHTC (2000-2005, 2007-2013)
FLHTCI (2000-2006)
FLHTCU (2007-2013)
FLHTCUI (2000-2006)
FLHTCUSE (2006)
FLHTCUSE2 (2007)
FLHTCUSE3 (2008)
FLHTCUSE4 (2009)
FLHTCUSE5 (2010)
FLHTCUSE6 (2011)
FLHTCUSE7 (2012)
FLHTCUSE8 (2013)
FLHTI (2003-2006)
FLHTK (2010-2013)
FLHX (2006-2013)
FLHXI (2006)
FLHXSE (2010)
FLHXSE2 (2011)
FLHXSE3 (2012)
FLHXXX (2010-2011)
FLTR (2007-2009, 2000-2002)
FLTRI (2000-2006)
FLTRSE3 (2009)
FLTRU (2011-2013)
FLTRUSE (2011)
FLTRX (2010-2013)
FLTRXSE (2012)
FLTRXSE2 (2013)

Trike