Headlamp Modulation kit
Part Number:
67700139
It's time to get noticed in traffic. This Headlamp Modulation Kit flashes your headlamp low beam from full to low intensity, 4 times per second to improve conspicuity on the road. The Headlamp Modulation Kit includes an override switch to allow the rider to activate modulation when desired and features a light sensor so modulation will only occur during daytime use.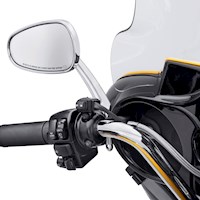 This item can only be used on the following Harley-Davidsons.
DYNA

Touring

FLHR (2000-2013)
FLHRC (2007-2013)
FLHRCI (2000-2006)
FLHRI (2000-2006)
FLHRS (2004-2007)
FLHRSE3 (2007)
FLHRSE4 (2008)
FLHRSE5 (2013)
FLHRSEI (2002)
FLHRSEI2 (2003)
FLHRSI (2004-2006)
FLHT (2000-2009)
FLHTC (2000-2005, 2007-2013)
FLHTCI (2000-2006)
FLHTCSE (2004)
FLHTCSE2 (2005)
FLHTCU (2007-2013)
FLHTCUI (2000-2006)
FLHTCUSE (2006)
FLHTCUSE2 (2007)
FLHTCUSE3 (2008)
FLHTCUSE4 (2009)
FLHTCUSE5 (2010)
FLHTCUSE6 (2011)
FLHTCUSE7 (2012)
FLHTCUSE8 (2013)
FLHTI (2003-2006)
FLHTK (2010-2013)
FLHX (2006-2013)
FLHXI (2006)
FLHXSE (2010)
FLHXSE2 (2011)
FLHXSE3 (2012)
FLHXXX (2010-2011)
FLTR (2000-2002, 2007-2009)
FLTRI (2000-2006)
FLTRSE3 (2009)
FLTRSEI (2000)
FLTRSEI2 (2001)
FLTRU (2011-2013)
FLTRUSE (2011)
FLTRX (2010-2013)
FLTRXSE (2012, 2018)
FLTRXSE2 (2013)

Trike