Screamin' Eagle Muffler Shields
Part Number:
65400078
Styled to complement the ballistic inlet shape of the Screamin' Eagle Street Performance Slip-On Mufflers. The rear shield features a deep embossed "Screamin' Eagle" signature script. Available in chrome, jet black and brushed nickel. Easy-to-install kit includes front and rear shields and mounting hardware. Fits '07-later XL, Dyna® (except '08-later FXDF, FLD, FXDL and '10-later FXDWG) and Softail® models equipped with Screamin' Eagle Street Performance Mufflers.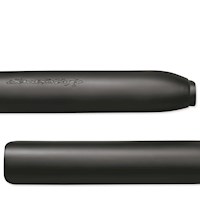 This item can only be used on the following Harley-Davidsons.
DYNA

FXD (2007-2010)
FXDB (2007-2017)
FXDC (2007-2014)
FXDF (2008-2012)
FXDFSE (2009)
FXDFSE2 (2010)
FXDL (2007-2009)
FXDLS (2016-2017)
FXDSE (2007)
FXDSE2 (2008)
FXDWG (2007-2008, 2010-2012)

Softail

FLS (2012-2017)
FLSTC (2007-2017)
FLSTF (2007-2017)
FLSTFB (2010-2016)
FLSTN (2007-2017)
FLSTNSE (2014-2015)
FLSTSB (2008-2011)
FLSTSC (2007)
FLSTSE (2010)
FLSTSE2 (2011)
FLSTSE3 (2012)
FXCW (2008-2009)
FXCWC (2008-2011)
FXS (2011-2013)
FXSB (2013-2017)
FXSBSE (2013-2014)
FXSE (2016-2017)
FXST (2007)
FXSTB (2007-2009)
FXSTC (2007-2010)
FXSTD (2007)
FXSTSSE (2007)
FXSTSSE2 (2008)
FXSTSSE3 (2009)

Sportster

XL1200C (2007-2019)
XL1200CX (2016-2020)
XL1200L (2007-2011)
XL1200N (2007-2012)
XL1200NS (2018-2020)
XL1200R (2007-2008)
XL1200T (2014-2017)
XL1200V (2012-2016)
XL1200X (2010-2020)
XL1200XS (2018-2019)
XL50 (2007)
XL883 (2007-2008)
XL883C (2007-2009)
XL883L (2007-2019)
XL883N (2009-2020)
XL883R (2007)
XR1200 (2009-2010)
XR1200X (2011-2012)