Oil Level And Temperature Dipstick with Lighted LCD Readout
Part Number:
62946-09
No more grabbing a rag to pull your hot dipstick. No more oil drips on your pipes and on the garage floor. These stylish yet hard-working dipsticks allow you to check your oil level and oil temperature with the push of a button. Simply push the button and this dipstick lights up with a brilliant backlight. Oil level is indicated by a four-segment readout — it even reminds you to check your oil when it is hot. Capacitive level sensing technology provides the highest degree of accuracy and durability. The waterproof LCD readout operates on a long-lasting, replaceable lithium coin-type battery (CR2032 3V, P/N 66000107). 
Display features a low battery indicator, and press-and-hold feature to toggle between Fahrenheit and Celsius. Fits '02-'06 Touring models. Also fits '99-'01 Touring models equipped with Chrome Oil Filler Spout P/N 62470-02, 62453-02 or 62454-02A.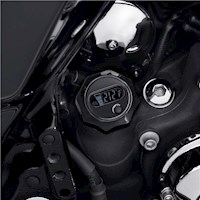 This item can only be used on the following Harley-Davidsons.
Touring

FLHR (2002-2006)
FLHRCI (2002-2006)
FLHRI (2002-2006)
FLHRS (2003-2006)
FLHRSEI (2002)
FLHRSEI2 (2003)
FLHRSI (2004-2006)
FLHT (2002-2006)
FLHTC (2002-2005)
FLHTCI (2002-2006)
FLHTCSE (2004)
FLHTCSE2 (2005)
FLHTCUI (2002-2006)
FLHTCUI/SC (2002-2006)
FLHTCUSE (2006)
FLHTI (2003-2006)
FLHX (2006)
FLHXI (2006)
FLTR (2002)
FLTRI (2002-2006)