Gauge Bezels - Defiance Collection
Part Number:
61400436
The perfect finishing touch. Defiance Collection Gauge Bezels add a custom detail to the place you constantly look - your instrument cluster. Accented with deep grooves, these machined aluminum rings cover the factory gauge surround adding texture and visual interest to the dash. Available in chrome, gloss black or machine cur black finishes, these self-adhesive rings are easy to install. Fits '99-later XL (except XL1200X and XL1200CX), '11-'13 FXS, '13-'17 FXSB, '13-'14 FXSBSE, '98-'13 Road Glide®, '14-'17 FXDL, and '18-later FXFB, FXFBS and FXLR models.
4" Tank Gauge - Black Machine Cut.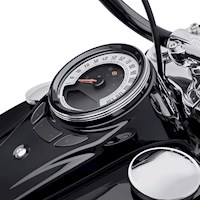 This item can only be used on the following Harley-Davidsons.
DYNA

FXDL (2014-2017)
FXFB (2018-2019)
FXFBS (2018-2020)
FXLR (2018-2020)
FXLRS (2020)

Softail

FXS (2011-2013)
FXSB (2013-2017)
FXSBSE (2013-2014)

Sportster

XL1200C (2000-2019)
XL1200L (2006-2011)
XL1200N (2007-2012)
XL1200NS (2018-2020)
XL1200R (2004-2008)
XL1200S (2000-2003)
XL1200T (2014-2017)
XL1200V (2012-2016)
XL50 (2007)
XL883 (2004-2008)
XL883C (2000-2009)
XL883L (2005-2019)
XL883N (2009-2020)
XL883R (2005-2007, 2002-2003)
XLH1200 (2000-2003)
XLH883 (2000-2003)
XLH883HUG (2000-2003)

Touring

FLTR (2000-2002, 2007-2009)
FLTRI (2000-2006)
FLTRSE3 (2009)
FLTRSEI (2000)
FLTRSEI2 (2001)
FLTRU (2011-2013)
FLTRUSE (2011)
FLTRX (2010-2013)
FLTRXSE (2012)
FLTRXSE2 (2013)