Bobber-Style Round Air Cleaner Cover
Part Number:
61300128
Low-profile round air cleaner cover adds an attractive nostalgic look to any bike's profile. This cover can be accented with your choice of stylish air cleaner trim collections (sold separately) for a personalized look. The cover features a cut-away bottom design that exposes the filter element to maximize the airflow when installed with a Screamin' Eagle® Stage I Air Cleaner Kit. Fits '12-later XL1200V and '11-later FLS and FXS models with Original Equipment round air cleaner. Also fits Screamin' Eagle Round Filter Stage Kits P/N 29773-02C, 29000009 and 29000019A.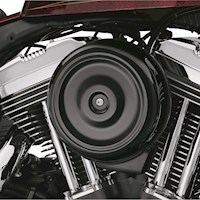 This item can only be used on the following Harley-Davidsons.
DYNA

FXD (2007-2008, 2000-2005)
FXDB (2007-2008, 2013-2017)
FXDBI (2006)
FXDC (2007-2008, 2005)
FXDCI (2005-2006)
FXDF (2008)
FXDI (2004-2006)
FXDI35 (2006)
FXDL (2014-2017, 2000-2005, 2007-2008)
FXDLI (2004-2006)
FXDLS (2016-2017)
FXDS CONV (2000)
FXDSE (2007)
FXDSE2 (2008)
FXDWG (2007-2008, 2000-2005)
FXDWG2 (2001)
FXDWG3 (2002)
FXDWGI (2004-2006)
FXDX (2000-2005)
FXDXI (2004-2005)
FXDXT (2001-2003)

Softail

FLS (2012-2017)
FLSS (2016-2017)
FLST (2006)
FLSTC (2000-2017)
FLSTCI (2001-2006)
FLSTF (2000-2017)
FLSTFB (2010-2016)
FLSTFBS (2016-2017)
FLSTFI (2001-2006)
FLSTFSE (2005)
FLSTFSE2 (2006)
FLSTI (2006)
FLSTN (2005-2017)
FLSTNI (2005-2006)
FLSTNSE (2014-2015)
FLSTS (2000-2003)
FLSTSC (2005-2007)
FLSTSCI (2005-2006)
FLSTSE (2010)
FLSTSE2 (2011)
FLSTSE3 (2012)
FLSTSI (2001-2003)
FXCW (2008-2009)
FXCWC (2008-2011)
FXS (2011-2013)
FXST (2000-2007)
FXSTB (2000-2009)
FXSTBI (2001-2006)
FXSTC (2007-2010)
FXSTD (2000-2007)
FXSTDI (2001-2006)
FXSTDSE (2003)
FXSTDSE2 (2004)
FXSTI (2001-2006)
FXSTS (2000-2006)
FXSTSI (2001-2006)
FXSTSSE (2007)
FXSTSSE2 (2008)
FXSTSSE3 (2009)

Sportster

XL1200C (2004-2018)
XL1200L (2006-2011)
XL1200N (2007-2012)
XL1200NS (2018)
XL1200R (2004-2008)
XL1200T (2014-2017)
XL1200V (2012-2016)
XL1200X (2010-2018)
XL1200XS (2018)
XL50 (2007)
XL883 (2004-2008)
XL883C (2004-2009)
XL883L (2005-2018)
XL883N (2009-2018)
XL883R (2005-2007)

Touring

FLHR (2000-2018)
FLHRC (2007-2013)
FLHRCI (2000-2006)
FLHRI (2000-2006)
FLHRS (2004-2007)
FLHRSE3 (2007)
FLHRSE4 (2008)
FLHRSE5 (2013)
FLHRSE6 (2014)
FLHRSEI (2002)
FLHRSEI2 (2003)
FLHRSI (2004-2006)
FLHRXS (2017-2018)
FLHT (2000-2009)
FLHTC (2007-2013, 2000-2005)
FLHTCI (2000-2006)
FLHTCSE (2004)
FLHTCSE2 (2005)
FLHTCU (2007-2018)
FLHTCUI (2000-2006)
FLHTCUL (2015-2016)
FLHTCUSE (2006)
FLHTCUSE2 (2007)
FLHTCUSE3 (2008)
FLHTCUSE4 (2009)
FLHTCUSE5 (2010)
FLHTCUSE6 (2011)
FLHTCUSE7 (2012)
FLHTCUSE8 (2013)
FLHTI (2003-2006)
FLHTK (2010-2018)
FLHTKL (2015-2018)
FLHTKSE (2014-2018)
FLHX (2006-2018)
FLHXI (2006)
FLHXS (2014-2018)
FLHXSE (2010)
FLHXSE2 (2011)
FLHXSE3 (2012)
FLHXXX (2010-2011)
FLTR (2000-2002, 2007-2009)
FLTRI (2000-2006)
FLTRSE3 (2009)
FLTRSEI (2000)
FLTRSEI2 (2001)
FLTRU (2011-2013)
FLTRUSE (2011)
FLTRX (2010-2013)
FLTRXSE (2012)
FLTRXSE2 (2013)

Trike