Rear Fender Extension - Polished Stainless
Part Number:
60476-00A
Designed to replace the black plastic rear fender splash guard, this stainless steel shield is formed to match the contour of the swingarm arc. Polished to a mirror-finish, this fender extension adds depth and dimension by reflecting light into a usually dark and hidden area. A great finishing touch to a chrome swingarm and custom wheel installation. Kit includes fitted stainless steel splash guard, attachment clips and chrome hardware.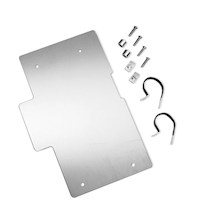 This item can only be used on the following Harley-Davidsons.
Softail

FLST (2006)
FLSTC (2000-2007)
FLSTCI (2001-2006)
FLSTF (2000-2007)
FLSTFI (2001-2006)
FLSTFSE (2005)
FLSTFSE2 (2006)
FLSTI (2006)
FLSTN (2005-2007)
FLSTNI (2005-2006)
FLSTS (2000-2003)
FLSTSC (2005-2007)
FLSTSCI (2005-2006)
FLSTSI (2001-2003)
FXST (2000-2007)
FXSTB (2000-2007)
FXSTBI (2001-2006)
FXSTC (2007)
FXSTD (2000-2007)
FXSTDI (2001-2006)
FXSTDSE (2003)
FXSTDSE2 (2004)
FXSTI (2001-2006)
FXSTS (2000-2006)
FXSTSI (2001-2006)
FXSTSSE (2007)