King-Size H-D Detachables Windshield for FL Softail Models - gloss Black Braces
Part Number:
57400110
Designed to be installed or removed without tools in seconds, a detachable windshield gives you the freedom to define your ride at the drop of a hat. Ride across the country protected from the elements, then quickly remove the windshield to hit the streets in style. This one-piece windshield is formed from hard-coated polycarbonate material to resist scratching. The shield is attached to stainless steel mounting brackets supported by molded-rubber bushings for improved isolation. Windshields are available with contemporary gloss black braces and mounting brackets and in a variety of heights to match your size and riding style. Fits '00-later FLS, FLST, FLSTC, FLSTF, FLSTFB and FLSTN models equipped with auxiliary lighting. Does not fit with Custom Auxiliary Lighting Kit P/N 68000051. Includes mounting hardware.
21" Clear - Black Braces.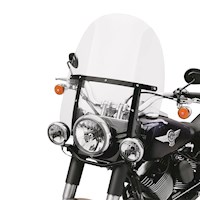 This item can only be used on the following Harley-Davidsons.
Softail

FLS (2012-2017)
FLSS (2016-2017)
FLST (2006)
FLSTC (2000-2017)
FLSTCI (2001-2006)
FLSTF (2000-2017)
FLSTFB (2010-2016)
FLSTFBS (2016-2017)
FLSTFI (2001-2006)
FLSTFSE (2005)
FLSTFSE2 (2006)
FLSTI (2006)
FLSTN (2005-2017)
FLSTNI (2005-2006)
FLSTNSE (2014-2015)