Wind Splitter Windshield - Batwing Fairing
Part Number:
57400092
In the world of functional performance, size does matter. After all, it's simple to understand that the larger the windshield area, the greater the amount of wind deflection. The Wind Splitter Windshield is a great look for all Touring models and is shaped for the perfect combination of effective airflow management and "wow" styling. The sweeping design complements the shape of the fairing and the inner dash panel and adds height over a traditional low-profile wind deflector in the center where it counts. The shape decreases wind noise and improves your ability to hear the motorcycle's sound system. The rich smoked finish does not interfere with your forward view and looks great against any paint color. The easy-to-install Wind Splitter features a center-mount Bar & Shield medallion for a distinctive finishing touch. Fits '96-'13 Electra Glide®, Street Glide® and Trike models. Does not fit with zu-mo® 550 GPS Navigator, Windshield Bags or Pouches.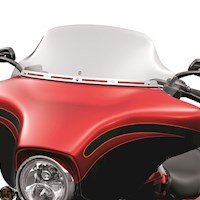 This item can only be used on the following Harley-Davidsons.
Touring

FLHT (2000-2009)
FLHTC (2000-2005, 2007-2013)
FLHTCI (2000-2006)
FLHTCSE (2004)
FLHTCSE2 (2005)
FLHTCU (2007-2013)
FLHTCUI (2000-2006)
FLHTCUSE (2006)
FLHTCUSE2 (2007)
FLHTCUSE3 (2008)
FLHTCUSE4 (2009)
FLHTCUSE5 (2010)
FLHTCUSE6 (2011)
FLHTCUSE7 (2012)
FLHTCUSE8 (2013)
FLHTI (2003-2006)
FLHTK (2010-2013)
FLHX (2006-2013)
FLHXI (2006)
FLHXSE (2010)
FLHXSE2 (2011)
FLHXSE3 (2012)
FLHXXX (2010-2011)

Trike