Softail® Front Spoiler
Part Number:
57040-08
This front spoiler is made from injection-molded, high-impact composite materials and styled with a racy, custom appearance. Includes the necessary hardware for quick and easy installation. Fits '07-'13 FX Softail®, FLSTSB and FLSTF models with oval voltage regulator. Will not fit models equipped with ABS, Premium Oil Cooler Kit P/N 26157-07 and 26136-05 or Chrome Voltage Regulator Cover. Will not fit with engine guards or ABS equipped vehicles.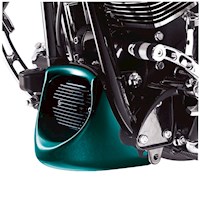 This item can only be used on the following Harley-Davidsons.
DYNA

FXDF (2012)
FXDF103 (2012)

Softail

FLSTF (2007-2016)
FLSTF ANV (2008)
FLSTF103 (2012-2013)
FLSTFB (2010-2016)
FLSTFB103 (2012-2013)
FLSTFB-ANN (2013)
FLSTFBS (2016)
FLSTSB (2008-2011)
FLSTSE (2010)
FLSTSE2 (2011)
FLSTSE3 (2012)
FXCW (2008-2009)
FXCWC (2008-2011)
FXS (2011-2013)
FXS103 (2012-2013)
FXSB (2013-2016)
FXSB103 (2013)
FXSBSE (2013-2014)
FXST (2007)
FXSTB (2007-2009)
FXSTC (2007-2010)
FXSTC ANV (2008)
FXSTD (2007)
FXSTSSE (2007)
FXSTSSE2 (2008)
FXSTSSE2 A (2008)
FXSTSSE3 (2009)