POLISHED FLOATING BRAKE ROTORS
Part Number:
55129-11
Complete the custom look with Floating Rotors. Styled to complement the Chisel and Slicer front wheel, the inner spider features a cutout design that mirrors the wheel's 7 distinctive open spokes. Rotors are polished to a mirror shine to match your customizing direction. Rotors include chrome mounting hardware. Fits '09-later Touring, (except '12-later CVO™) and FLHTCUTG models. Requires separate purchase of (2) Open Floating Brake Rotors P/N 41500012A (polished) or 44553-06A (raw). Fits '09-later Touring models. (except '12-later CVO) Does not fit Trike models.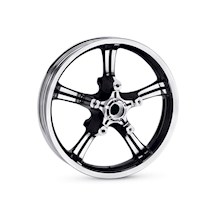 This item can only be used on the following Harley-Davidsons.
Touring

FLHR (2009-2020)
FLHRC (2009-2013)
FLHRXS (2017-2020)
FLHT (2009, 2019-2020)
FLHTC (2009-2013)
FLHTCU (2009-2019)
FLHTCUL (2015-2016)
FLHTCUSE4 (2009)
FLHTCUSE5 (2010)
FLHTCUSE6 (2011)
FLHTK (2010-2020)
FLHTKL (2015-2019)
FLHX (2009-2020)
FLHXS (2014-2020)
FLHXSE (2010)
FLHXSE2 (2011)
FLTR (2009)
FLTRK (2020)
FLTRSE3 (2009)
FLTRU (2016-2019, 2011-2013)
FLTRUSE (2011)
FLTRX (2015-2020, 2010-2013)
FLTRXS (2015-2020)