Profile® Low Rear Suspension
Part Number:
54652-05
This suspension lowers the seat height approximately 1.0" (P/N 54588-94) or .75" (P/N 54651-05 and 54652-05) while preserving ride quality. Spring and damping rates are tailored for Softail® models to ensure a controlled ride. Shocks feature multi-staged damping to ensure optimal performance under varying conditions. Kit includes a pair of rear shock absorbers and a Softail shock spring preload adjustment wrench. Compatible with Profile® Low Front Suspension. Fits '00-later Softail models (except FXCW, FXCWC, FXS, FXSB, FXSBSE, FXSTD and FXSTSSE3). Does not lower '05-later FLS (except models in AUS, BRZ and APC markets), FLSTN, FLSTSB, FLSTFB, FLSTSE/2/3, '07 FXSTD and FXSTSSE/2/3 models. Also fits '10-later Fat Boy® Special model in UK, Europe, Brazil and select international markets that are factory-equipped with standard-height rear suspension.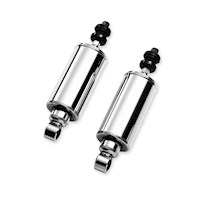 This item can only be used on the following Harley-Davidsons.
Softail

FLST (2006)
FLSTC (2000-2017)
FLSTCI (2001-2006)
FLSTF (2000-2017)
FLSTFB (2010-2016)
FLSTFBS (2016-2017)
FLSTFI (2001-2006)
FLSTFSE (2005)
FLSTFSE2 (2006)
FLSTI (2006)
FLSTS (2000-2003)
FLSTSC (2005-2007)
FLSTSCI (2005-2006)
FLSTSI (2001-2003)
FXST (2000-2007)
FXSTB (2000-2009)
FXSTBI (2001-2006)
FXSTC (2007-2010)
FXSTI (2001-2006)
FXSTS (2000-2006)
FXSTSI (2001-2006)