King Tour-Pak Backrest Pad - Mahogany Brown
Part Number:
52300142
Textured brown vinyl and elegant gold stitched pad is the perfect complement to the '12 FLTRXSE model and the Mahogany Brown Seat and Pillion collection. One-piece design includes integrated lower backrest pad.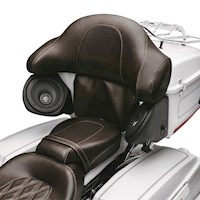 This item can only be used on the following Harley-Davidsons.
Touring

FLHR (2000-2014, 2000-2014)
FLHR/I (2007, 2007)
FLHR103 (2011-2013, 2011-2013)
FLHR-ANN (2013, 2013)
FLHRC (2007-2013, 2007-2013)
FLHRC ANV (2008, 2008)
FLHRC103 (2011-2012, 2011-2012)
FLHRCI (2000-2007, 2000-2007)
FLHRI (2000-2006, 2000-2006)
FLHRS (2003-2007, 2003-2007)
FLHRS/1 (2007, 2007)
FLHRSE3 (2007, 2007)
FLHRSE4 (2008, 2008)
FLHRSEI (2002, 2002)
FLHRSEI2 (2003, 2003)
FLHRSI (2004-2006, 2004-2006)
FLHT (2000-2009, 2000-2009)
FLHT/I (2007-2009, 2007-2009)
FLHTC (2007-2013, 2007-2013, 2000-2005, 2000-2005)
FLHTC/I (2007, 2007)
FLHTC103 (2011-2012, 2011-2012)
FLHTCI (2000-2006, 2000-2006)
FLHTCSE (2004, 2004)
FLHTCSE2 (2005, 2005)
FLHTCU (2007-2014, 2007-2014)
FLHTCU ANV (2008, 2008)
FLHTCU/I (2007, 2007)
FLHTCU/SC (2007-2008, 2007-2008)
FLHTCU103 (2011-2013, 2011-2013)
FLHTCU3 (2008, 2008)
FLHTCU3 AN (2008, 2008)
FLHTCUH (2009, 2009)
FLHTCUI (2000-2006, 2000-2006)
FLHTCUI/SC (2000-2006, 2000-2006)
FLHTCUSE (2006, 2006)
FLHTCUSE2 (2007, 2007)
FLHTCUSE3 (2008, 2008)
FLHTCUSE4 (2009, 2009)
FLHTCUSE5 (2010, 2010)
FLHTCUSE6 (2011, 2011)
FLHTCUSE7 (2012, 2012)
FLHTI (2003-2006, 2003-2006)
FLHTK (2010-2014, 2010-2014)
FLHTK W/SC (2011, 2011)
FLHTK-ANN (2013, 2013)
FLHTKSE (2014, 2014)
FLHX (2006-2014, 2006-2014)
FLHX ANV (2008, 2008)
FLHX/I (2007, 2007)
FLHX103 (2011, 2011)
FLHXI (2006, 2006)
FLHXS (2014, 2014)
FLHXSE (2010, 2010)
FLHXSE2 (2011, 2011)
FLHXSE3 (2012, 2012)
FLHXXX (2010-2011, 2010-2011)
FLTR (2000-2002, 2000-2002, 2007-2009, 2007-2009)
FLTR ANV (2008, 2008)
FLTR/I (2007, 2007)
FLTRI (2000-2006, 2000-2006)
FLTRSE3 (2009, 2009)
FLTRSEI (2000, 2000)
FLTRSEI2 (2001, 2001)
FLTRU (2011-2013, 2011-2013)
FLTRU103 (2011-2013, 2011-2013)
FLTRUSE (2011, 2011)
FLTRX (2010-2013, 2010-2013)
FLTRX103 (2011, 2011, 2013, 2013)
FLTRXSE (2012, 2012)

Trike

FLHTCUTG (2009-2014, 2009-2014)
FLHTCUTG-A (2013, 2013)