Black Hand Control Lever Kit
Part Number:
46944-07A
Grab some black with these levers - a natural fit for black accessory handlebars or to further the blacked-out look of your motorcycle. A clutch anti-rattle clip and new pivot bushings are included.
Fits '04-'13 XL and XR models.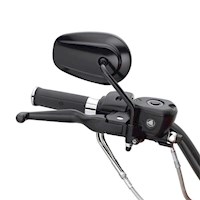 This item can only be used on the following Harley-Davidsons.
Sportster

XL1200C (2004-2018)
XL1200L (2006-2011)
XL1200N (2007-2012)
XL1200NS (2018)
XL1200R (2004-2008)
XL1200V (2012-2016)
XL1200X (2010-2018)
XL1200XS (2018)
XL50 (2007)
XL883 (2004-2008)
XL883C (2004-2009)
XL883L (2005-2018)
XL883N (2009-2018)
XL883R (2005-2007)
XR1200 (2009-2010)
XR1200X (2011)