Screamin' Eagle® Fork Brace - Chrome
Part Number:
46192-99A
These chrome Fork Braces are machined from billet aluminum, then polished and chrome-plated to complement the curve of the front fender. The machined Screamin' Eagle® logo finishes the look with crisp detail. Easy to install, these braces offer increased torsional rigidity.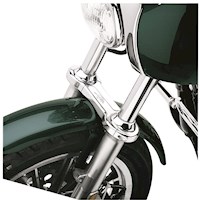 This item can only be used on the following Harley-Davidsons.
DYNA

FXD (2000-2005)
FXDC (2005)
FXDCI (2005)
FXDI (2004-2005)
FXDL (2000-2005)
FXDLI (2004-2005)
FXDS CONV (2000)
FXDWG (2000-2005)
FXDWG2 (2001)
FXDWG3 (2002)
FXDWGI (2004-2005)
FXDX (2000-2005)
FXDXI (2004-2005)
FXDXT (2001-2003)
FXR4 (2000)

Sportster

XL1200C (2000-2010)
XL1200L (2006-2011)
XL1200R (2004-2008)
XL1200S (2000-2003)
XL1200V (2012-2016)
XL50 (2007)
XL883 (2004-2008)
XL883C (2000-2009)
XL883R (2005-2007, 2002-2003)
XLH1200 (2000-2003)
XLH883 (2000-2003)
XLH883HUG (2000-2003)