Chrome Clutch Bracket and Master Cylinder Reservoir Kit
Part Number:
45284-99D
Replace your stock painted aluminum controls with brilliant chrome, without compromising quality. This kit is manufactured from the Original Equipment components and includes Chrome Master Cylinder Cover. When combined with Chrome Switch Housing Kit, Chrome Switch Caps and other Harley-Davidson® Genuine Motor Accessories, this front brake control kit provides a look that does more than stop your bike - it can stop traffic.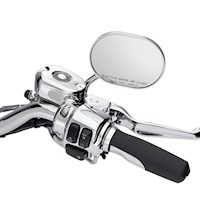 This item can only be used on the following Harley-Davidsons.
DYNA

FXD (2000-2005)
FXDC (2005)
FXDCI (2005)
FXDI (2004-2005)
FXDL (2001-2005)
FXDLI (2004-2005)
FXDWG (2000-2005)
FXDWG2 (2001)
FXDWG3 (2002)
FXDWGI (2004-2005)

Softail

FLSTC (2000-2005)
FLSTCI (2001-2005)
FLSTF (2000-2005)
FLSTFI (2001-2005)
FLSTFSE (2005)
FLSTN (2005)
FLSTNI (2005)
FLSTS (2000-2003)
FLSTSC (2005)
FLSTSCI (2005)
FLSTSI (2001-2003)
FXST (2000-2005)
FXSTB (2000-2005)
FXSTBI (2001-2005)
FXSTD (2000-2005)
FXSTDI (2001-2005)
FXSTI (2001-2005)
FXSTS (2000-2005)
FXSTSI (2001-2005)

Sportster

XL1200C (2000-2003)
XL883C (2000-2003)
XLH1200 (2000-2003)
XLH883 (2000-2003)
XLH883HUG (2000-2003)