ThunderStar™ Custom Wheels
Part Number:
44282-07
Impressive styling and performance all rolled into one, this premium quality cast aluminum wheel is named for its striking 5-spoke design. Available in mirror chrome finish, this wheel offers a captivating style. Requires separate purchase of model-specific Wheel Installation Kit, Sprocket hardware and Brake Rotor-specific hardware. See I-sheet for details. Installation may require separate purchase of wheel size and 
model-specific tire. Fits '00-later FXS, FXST, FXSTD (except FXSTDSE), FXSTS, FXSTB, FXSTC and '00-later FXDWG. Fits '00-later XL (except XL1200T, XL1200X, '11-later XL883L and XL1200C) and '00-'05 Dyna® models (except FXDWG).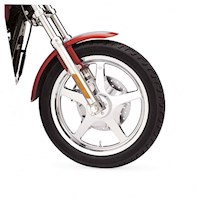 This item can only be used on the following Harley-Davidsons.
DYNA

FXD (2000-2005)
FXDC (2005)
FXDCI (2005)
FXDI (2004-2005)
FXDL (2000-2005)
FXDLI (2004-2005)
FXDS CONV (2000)
FXDX (2000-2005)
FXDXI (2004-2005)
FXDXT (2001-2003)

Sportster

XL1200C (2000-2010)
XL1200L (2006-2011)
XL1200N (2007-2012)
XL1200NS (2018)
XL1200R (2004-2008)
XL1200S (2000-2003)
XL1200V (2012-2016)
XL50 (2007)
XL883 (2004-2008)
XL883C (2000-2009)
XL883L (2014-2018, 2005-2010)
XL883N (2009-2018)
XL883R (2005-2007, 2002-2003)
XLH1200 (2000-2003)
XLH883 (2000-2003)
XLH883HUG (2000-2003)