Rear Axle Nut Covers - Fat Boy® and Breakout®
Part Number:
43000109
Cover your rear axle nut in the most traditional way. These rear axle covers fit into the recessed eye of the swingarm, and the low profile design allows installation without removal of the mufflers. Easy to install, these cover kits include necessary mounting hardware. Sold in pairs. Fits '08-'17 Dyna® and '08-later Softail models (except FXCW, FXCWC, FXSB, FXSBSE, and FXST-AUS). Kit includes full left side cover and right side beauty ring.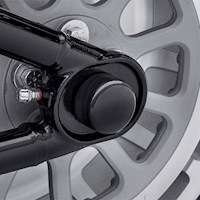 This item can only be used on the following Harley-Davidsons.
DYNA

FLD (2012-2016)
FLDE (2018-2020)
FXBB (2018-2020)
FXBR (2018-2019)
FXBRS (2018-2020)
FXD (2008-2010)
FXDB (2008-2017)
FXDC (2008-2014)
FXDF (2008-2017)
FXDFSE (2009)
FXDFSE2 (2010)
FXDL (2014-2017, 2008-2009)
FXDLS (2016-2017)
FXDSE2 (2008)
FXDWG (2010-2017, 2008)
FXFB (2018-2019)
FXFBS (2018-2020)
FXLR (2018-2020)
FXLRS (2020)

Other

FLFB (2018-2019)
FLFBS (2018-2020)

Softail

FLS (2012-2017)
FLSB (2018-2020)
FLSL (2018-2020)
FLSS (2016-2017)
FLSTC (2008-2017)
FLSTF (2008-2017)
FLSTFB (2010-2016)
FLSTFBS (2016-2017)
FLSTN (2008-2017)
FLSTNSE (2014-2015)
FLSTSB (2008-2011)
FLSTSE (2010)
FLSTSE2 (2011)
FLSTSE3 (2012)
FXS (2011-2013)
FXSE (2016-2017)
FXSTB (2008-2009)
FXSTC (2008-2010)
FXSTSSE2 (2008)
FXSTSSE3 (2009)

Touring

FLHC (2018-2020)
FLHCS (2018-2020)