Typhoon Custom Wheel
Part Number:
40900065
An intense storm is brewing. Nine arching spokes spin outward from the hub and blend seamlessly with the rim to add forward motion, even while standing still and the flat profile spokes and carved webs add visual intensity. Requires separate purchase of model-specific Wheel Installation Kit, Sprocket hardware and Brake Rotor-specific hardware. See I-sheet for details. Installation may require separate purchase of wheel size and model-specific tire. Fits '00-later FXS, FXST, FXSTD (except FXSTDSE), FXSTS, FXSTB, FXSTC, '00-later FXDWG and '08 FXDSE2 models. Fits '06-later Dyna® models (except FLD, FXDWG, FXDF, FXDFSE/2 and '14-later FXDL). Installation on models equipped with Original Equipment laced wheel will require separate purchase of Floating Brake Rotor. Does not fit with chrome Front Wheel Spacer Kit P/N 41420-08. Fits '08-later FXST, FXSTB, FXSTC, FLSTF, FLSTFB and FLSTSB models.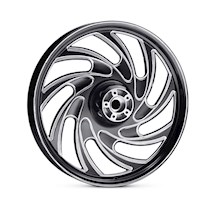 This item can only be used on the following Harley-Davidsons.
DYNA

FXDF (2012)
FXDF103 (2012)

Softail

FLSTF (2008-2016)
FLSTF ANV (2008)
FLSTF103 (2012-2013)
FLSTFB (2010-2016)
FLSTFB103 (2012-2013)
FLSTFB-ANN (2013)
FLSTFBS (2016)
FLSTSB (2008-2011)
FXSTB (2008-2009)
FXSTC (2008-2010)
FXSTC ANV (2008)