Custom Gear Shift Linkages
Part Number:
34604-09
Kick your custom into gear with this collection of high quality custom shift linkages. Available in a variety of designs to match your bike's style, these linkages feature aircraft-quality rod ends for easy adjustment and smooth operation. The linkage kit includes a transmission lever cover and decorative acorn nuts and bolts for a complete custom look. Easy to install. Fits '86-later Softail® and Touring models. (Does not fit '97-'99 FLSTS models, or models equipped with Softail Extended Reach Forward Controls.)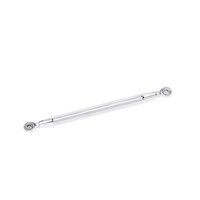 This item can only be used on the following Harley-Davidsons.
DYNA

FXDF (2012)
FXDF103 (2012)

Softail

FLS (2012-2016)
FLS103 (2012-2013)
FLSS (2016)
FLST (2006)
FLSTC (2000-2016)
FLSTC ANV (2008)
FLSTC103 (2012-2013)
FLSTC-ANN (2013)
FLSTCI (2001-2006)
FLSTF (2000-2016)
FLSTF ANV (2008)
FLSTF103 (2012-2013)
FLSTFB (2010-2016)
FLSTFB103 (2012-2013)
FLSTFB-ANN (2013)
FLSTFBS (2016)
FLSTFI (2001-2006)
FLSTFI-ANN (2005)
FLSTFSE (2005)
FLSTFSE2 (2006)
FLSTI (2006)
FLSTN (2005-2016)
FLSTN ANV (2008)
FLSTN103 (2012-2013)
FLSTNI (2005-2006)
FLSTNSE (2014-2015)
FLSTS (2000-2003)
FLSTSB (2008-2011)
FLSTSC (2005-2007)
FLSTSCI (2005-2006)
FLSTSE (2010)
FLSTSE2 (2011)
FLSTSE3 (2012)
FLSTSI (2001-2003)
FXSB (2013-2016)
FXSB103 (2013)
FXSBSE (2013-2014)
FXSTS (2003)

Touring

FLHR (2000-2016)
FLHR/I (2007)
FLHR103 (2011-2013)
FLHR4 (2008)
FLHR-ANN (2013)
FLHRC (2007-2013)
FLHRC ANV (2008)
FLHRC103 (2011-2012)
FLHRCI (2000-2007)
FLHRI (2000-2006)
FLHRS (2003-2007)
FLHRS/1 (2007)
FLHRSE3 (2007)
FLHRSE4 (2008)
FLHRSE4 AN (2008)
FLHRSE5 (2013)
FLHRSE5-AN (2013)
FLHRSE6 (2014)
FLHRSEI (2002)
FLHRSEI2 (2003)
FLHRSI (2004-2006)
FLHT (2000-2009)
FLHT/I (2007-2009)
FLHTC (2000-2005, 2007-2013)
FLHTC/I (2007)
FLHTC103 (2011-2012)
FLHTCI (2000-2006)
FLHTCSE (2004)
FLHTCSE2 (2005)
FLHTCU (2007-2016)
FLHTCU ANV (2008)
FLHTCU/I (2007)
FLHTCU/SC (2007-2008)
FLHTCU103 (2011-2013)
FLHTCU3 (2008)
FLHTCU3 AN (2008)
FLHTCUH (2009)
FLHTCUI (2000-2006)
FLHTCUI/SC (2000-2006)
FLHTCUL (2015-2016)
FLHTCUSE (2006)
FLHTCUSE2 (2007)
FLHTCUSE3 (2008)
FLHTCUSE4 (2009)
FLHTCUSE5 (2010)
FLHTCUSE5- (2010)
FLHTI (2003-2006)
FLHTK (2010-2016)
FLHTK W/SC (2011)
FLHTK-ANN (2013)
FLHTKL (2015-2016)
FLHTKSE (2014-2016)
FLHX (2006-2016)
FLHX ANV (2008)
FLHX/I (2007)
FLHX103 (2011-2012)
FLHXI (2006)
FLHXS (2014-2016)
FLHXSE (2010)
FLHXSE2 (2011)
FLHXSE3 (2012)
FLHXXX (2010-2011)
FLTR (2000-2002, 2007-2009)
FLTR ANV (2008)
FLTR/I (2007)
FLTRI (2000-2006)
FLTRSE3 (2009)
FLTRSEI (2000, 2002)
FLTRSEI2 (2001)
FLTRU (2011-2013)
FLTRU103 (2011-2013)
FLTRUSE (2011)
FLTRX (2010-2013)
FLTRX103 (2013, 2011)
FLTRXSE (2012)
FLTRXSE2 (2013)
FLTRXSE2-A (2013)

Trike

FLHTCUTG (2009-2016)
FLHTCUTG-A (2013)