Airflow Collection Heel/Toe Shift Lever
Part Number:
33600076
Styled to complement the Airflow Collection, this forged billet aluminum shift lever adds a custom touch to your bike. The mirror chrome lever features a deep groove that catches light and draws your eye. The separate front and rear levers can be easily adjusted for convenient shifting, and the extended-length rear lever provides additional space for larger boots. Kit includes a front and rear lever and mounting hardware. Lever accepts stock or accessory shifter pegs.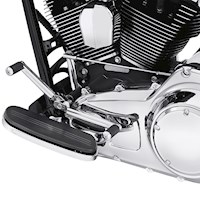 This item can only be used on the following Harley-Davidsons.
Softail

FLS (2012-2017)
FLSS (2016-2017)
FLST (2006)
FLSTC (2000-2017)
FLSTCI (2001-2006)
FLSTF (2000-2017)
FLSTFB (2010-2016)
FLSTFBS (2016-2017)
FLSTFI (2001-2006)
FLSTFSE (2005)
FLSTFSE2 (2006)
FLSTI (2006)
FLSTN (2005-2017)
FLSTNI (2005-2006)
FLSTNSE (2014-2015)
FLSTS (2000-2003)
FLSTSB (2008-2011)
FLSTSC (2005-2007)
FLSTSCI (2005-2006)
FLSTSE (2010)
FLSTSE2 (2011)
FLSTSE3 (2012)
FLSTSI (2001-2003)

Touring

FLHR (2000-2020)
FLHRC (2007-2013)
FLHRCI (2000-2006)
FLHRI (2000-2006)
FLHRS (2004-2007)
FLHRSE3 (2007)
FLHRSE4 (2008)
FLHRSE5 (2013)
FLHRSE6 (2014)
FLHRSEI (2002)
FLHRSEI2 (2003)
FLHRSI (2004-2006)
FLHRXS (2017-2020)
FLHT (2019-2020, 2000-2009)
FLHTC (2000-2005, 2007-2013)
FLHTCI (2000-2006)
FLHTCSE (2004)
FLHTCSE2 (2005)
FLHTCU (2007-2019)
FLHTCUI (2000-2006)
FLHTCUL (2015-2016)
FLHTCUSE (2006)
FLHTCUSE2 (2007)
FLHTCUSE3 (2008)
FLHTCUSE4 (2009)
FLHTCUSE5 (2010)
FLHTCUSE6 (2011)
FLHTCUSE7 (2012)
FLHTCUSE8 (2013)
FLHTCUTGSE (2020)
FLHTI (2003-2006)
FLHTK (2010-2020)
FLHTKL (2015-2019)
FLHTKSE (2014-2020)
FLHX (2006-2020)
FLHXI (2006)
FLHXS (2014-2020)
FLHXSE (2015-2020, 2010)
FLHXSE2 (2011)
FLHXSE3 (2012)
FLHXXX (2010-2011)
FLTR (2000-2002, 2007-2009)
FLTRI (2000-2006)
FLTRK (2020)
FLTRSE3 (2009)
FLTRSEI (2000)
FLTRSEI2 (2001)
FLTRU (2011-2013, 2016-2019)
FLTRUSE (2015-2016, 2011)
FLTRX (2015-2020, 2010-2013)
FLTRXS (2015-2020)
FLTRXSE (2012, 2018-2019)
FLTRXSE2 (2013)

Trike

FLHTCUTG (2009-2020)
FLRT (2015-2020)