Billet Brake Line Clip
Part Number:
10800039
It's the details that count. Replace the Original Equipment black brake line clamp with this beautifully finished billet aluminum clip. These "ball-milled" clips mount in the factory position for easy installation. Kit includes chrome-plated mounting hardware. Fits '00-later FXST, FXSTB, FXSTC, FXSTD and FXDWG models equipped with braided brake lines. Also fits '08-later FXST, FXSTB, FXSTC and FXDWG with Original Equipment brake lines.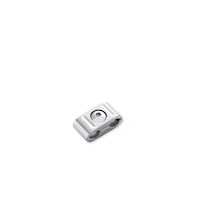 This item can only be used on the following Harley-Davidsons.
DYNA

FXDL (2014-2017)
FXDLS (2016-2017)
FXDWG (2010-2017, 2007-2008, 2000-2005)
FXDWG2 (2001)
FXDWG3 (2002)
FXDWGI (2004-2006)

Softail

FXST (2000-2007)
FXSTB (2000-2009)
FXSTBI (2001-2006)
FXSTC (2007-2010)
FXSTD (2000-2007)
FXSTDI (2001-2006)
FXSTDSE (2003)
FXSTDSE2 (2004)
FXSTI (2001-2006)