Billet Brake Line Clip
Part Number:
10800038
It's the details that count. Replace the Original Equipment black brake line clamp with this beautifully finished billet aluminum clip. These "ball-milled" clips mount in the factory position for easy installation. Kit includes chrome-plated mounting hardware. Fits '00-later XL and Dyna® (except FXDWG) models equipped with braided brake lines. Also fits '08-later Dyna models (except FXDWG) with Original Equipment brake lines.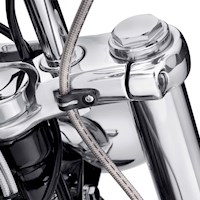 This item can only be used on the following Harley-Davidsons.
DYNA

FLD (2012-2016)
FXD (2007-2010, 2000-2005)
FXDB (2007-2017)
FXDBI (2006)
FXDC (2007-2014, 2005)
FXDCI (2005-2006)
FXDF (2008-2017)
FXDFSE (2009)
FXDFSE2 (2010)
FXDI (2004-2006)
FXDI35 (2006)
FXDL (2007-2009, 2014-2017, 2000-2005)
FXDLI (2004-2006)
FXDLS (2016-2017)
FXDS CONV (2000)
FXDSE (2007)
FXDSE2 (2008)
FXDX (2000-2005)
FXDXI (2004-2005)
FXDXT (2001-2003)

Sportster

XL1200C (2000-2018)
XL1200CX (2016-2018)
XL1200L (2006-2011)
XL1200N (2007-2012)
XL1200NS (2018)
XL1200R (2004-2008)
XL1200S (2000-2003)
XL1200T (2014-2017)
XL1200V (2012-2016)
XL1200X (2010-2018)
XL1200XS (2018)
XL50 (2007)
XL883 (2004-2008)
XL883C (2000-2009)
XL883L (2005-2018)
XL883N (2009-2018)
XL883R (2002-2003, 2005-2007)
XLH1200 (2000-2003)
XLH883 (2000-2003)
XLH883HUG (2000-2003)
XR1200 (2009-2010)
XR1200X (2011-2012)