HARLEY® AEROSOL LUBE
Part Number:
93600113
Harley® Lube is a Harley-Davidson approved general lubrication oil that is perfect for lubricating clutch cables, Tour-Pak®hinges, hand levers, footboards, footpegs, and windshield clamps. Aerosol container provides fast delivery of lubricant, and reduces cable lubrication time by 50%.
10.5 oz (297 g) Aerosol Can.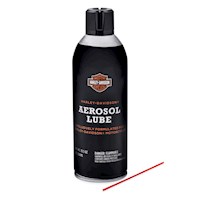 This item can only be used on the following Harley-Davidsons.
DYNA

FLD (2012-2016)
FLDE (2018-2020)
FXBB (2018-2020)
FXBR (2018-2019)
FXBRS (2018-2020)
FXD (2007-2010, 2000-2005)
FXDB (2007-2017)
FXDBI (2006)
FXDC (2007-2014, 2005)
FXDCI (2005-2006)
FXDF (2008-2017)
FXDFSE (2009)
FXDFSE2 (2010)
FXDI (2004-2006)
FXDI35 (2006)
FXDL (2007-2009, 2014-2017, 2000-2005)
FXDLI (2004-2006)
FXDLS (2016-2017)
FXDRS (2019-2020)
FXDS CONV (2000)
FXDSE (2007)
FXDSE2 (2008)
FXDWG (2007-2008, 2000-2005, 2010-2017)
FXDWG2 (2001)
FXDWG3 (2002)
FXDWGI (2004-2006)
FXDX (2000-2005)
FXDXI (2004-2005)
FXDXT (2001-2003)
FXFB (2018-2019)
FXFBS (2018-2020)
FXLR (2018-2020)
FXLRS (2020)
FXR4 (2000)

Other

FLFB (2018-2019)
FLFBS (2018-2020)

Softail

FLS (2012-2017)
FLSB (2018-2020)
FLSL (2018-2020)
FLSS (2016-2017)
FLST (2006)
FLSTC (2000-2017)
FLSTCI (2001-2006)
FLSTF (2000-2017)
FLSTFB (2010-2016)
FLSTFBS (2016-2017)
FLSTFI (2001-2006)
FLSTFSE (2005)
FLSTFSE2 (2006)
FLSTI (2006)
FLSTN (2005-2017)
FLSTNI (2005-2006)
FLSTNSE (2014-2015)
FLSTS (2000-2003)
FLSTSB (2008-2011)
FLSTSC (2005-2007)
FLSTSCI (2005-2006)
FLSTSE (2010)
FLSTSE2 (2011)
FLSTSE3 (2012)
FLSTSI (2001-2003)
FXCW (2008-2009)
FXCWC (2008-2011)
FXS (2011-2013)
FXSB (2013-2017)
FXSBSE (2013-2014)
FXSE (2016-2017)
FXST (2000-2007)
FXSTB (2000-2009)
FXSTBI (2001-2006)
FXSTC (2007-2010)
FXSTD (2000-2007)
FXSTDI (2001-2006)
FXSTDSE (2003)
FXSTDSE2 (2004)
FXSTI (2001-2006)
FXSTS (2000-2006)
FXSTSI (2001-2006)
FXSTSSE (2007)
FXSTSSE2 (2008)
FXSTSSE3 (2009)

Sportster

XL1200C (2000-2019)
XL1200CX (2016-2020)
XL1200L (2006-2011)
XL1200N (2007-2012)
XL1200NS (2018-2020)
XL1200R (2004-2008)
XL1200S (2000-2003)
XL1200T (2014-2017)
XL1200V (2012-2016)
XL1200X (2010-2020)
XL1200XS (2018-2019)
XL50 (2007)
XL883 (2004-2008)
XL883C (2000-2009)
XL883L (2005-2019)
XL883N (2009-2020)
XL883R (2005-2007, 2002-2003)
XLH1200 (2000-2003)
XLH883 (2000-2003)
XLH883HUG (2000-2003)
XR1200 (2009-2010)
XR1200X (2011-2012)

Street

XG500 (2015-2020)
XG750 (2015-2020)
XG750A (2017-2020)

Touring

FLHC (2018-2020)
FLHCS (2018-2020)
FLHR (2000-2020)
FLHRC (2007-2013)
FLHRCI (2000-2006)
FLHRI (2000-2006)
FLHRS (2004-2007)
FLHRSE3 (2007)
FLHRSE4 (2008)
FLHRSE5 (2013)
FLHRSE6 (2014)
FLHRSEI (2002)
FLHRSEI2 (2003)
FLHRSI (2004-2006)
FLHRXS (2017-2020)
FLHT (2019-2020, 2000-2009)
FLHTC (2000-2005, 2007-2013)
FLHTCI (2000-2006)
FLHTCSE (2004)
FLHTCSE2 (2005)
FLHTCU (2007-2019)
FLHTCUI (2000-2006)
FLHTCUL (2015-2016)
FLHTCUSE (2006)
FLHTCUSE2 (2007)
FLHTCUSE3 (2008)
FLHTCUSE4 (2009)
FLHTCUSE5 (2010)
FLHTCUSE6 (2011)
FLHTCUSE7 (2012)
FLHTCUSE8 (2013)
FLHTCUTGSE (2020)
FLHTI (2003-2006)
FLHTK (2010-2020)
FLHTKL (2015-2019)
FLHTKSE (2014-2020)
FLHX (2006-2020)
FLHXI (2006)
FLHXS (2014-2020)
FLHXSE (2015-2020, 2010)
FLHXSE2 (2011)
FLHXSE3 (2012)
FLHXXX (2010-2011)
FLTR (2007-2009, 2000-2002)
FLTRI (2000-2006)
FLTRK (2020)
FLTRSE3 (2009)
FLTRSEI (2000)
FLTRSEI2 (2001)
FLTRU (2016-2019, 2011-2013)
FLTRUSE (2011, 2015-2016)
FLTRX (2015-2020, 2010-2013)
FLTRXS (2015-2020)
FLTRXSE (2018-2019, 2012)
FLTRXSE2 (2013)

Trike

FLHTCUTG (2009-2020)
FLRT (2015-2020)

V-Rod

VRSCA (2002-2006)
VRSCAW (2007-2010)
VRSCB (2004-2005)
VRSCD (2006-2008)
VRSCDX (2007-2017)
VRSCDX ANV (2012)
VRSCF (2009-2017)
VRSCR (2006-2007)
VRSCSE (2005)
VRSCSE2 (2006)
VRSCX (2007)