Billet Saddlebag Latch Kit - Midnight Flame
Part Number:
90690-04A
Styled to carry the "Flame" theme from front to back, this Flame Saddlebag Latch will get you noticed. The smooth black rubber insert is set into the brilliant chrome surface, defining the traditional "Hot Rod" flame pattern. The billet covers replace the Original Equipment latch covers, but retain the stock hinges and locks for easy installation. Kit includes chrome-plated mounting hardware and saddlebag-mounted reflectors.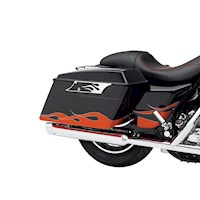 This item can only be used on the following Harley-Davidsons.
Touring

FLHR (2000-2013)
FLHRI (2000-2006)
FLHRSE3 (2007)
FLHRSE4 (2008)
FLHRSE5 (2013)
FLHRSEI (2002)
FLHRSEI2 (2003)
FLHT (2000-2009)
FLHTC (2000-2005, 2007-2013)
FLHTCI (2000-2006)
FLHTCSE (2004)
FLHTCSE2 (2005)
FLHTCU (2007-2013)
FLHTCUI (2000-2006)
FLHTCUSE (2006)
FLHTCUSE2 (2007)
FLHTCUSE3 (2008)
FLHTCUSE4 (2009)
FLHTCUSE5 (2010)
FLHTI (2003-2006)
FLHTK (2010-2013)
FLHX (2006-2013)
FLHXI (2006)
FLHXSE (2010)
FLHXSE2 (2011)
FLHXSE3 (2012)
FLTR (2007-2009, 2000-2002)
FLTRI (2000-2006)
FLTRSE3 (2009)
FLTRSEI (2000)
FLTRSEI2 (2001)
FLTRU (2011-2013)
FLTRUSE (2011)
FLTRX (2010-2013)
FLTRXSE (2018, 2012)
FLTRXSE2 (2013)