Combination Digital Speedometer/Analog Tachometer
Part Number:
70900001A
This unique Digital Speedometer with Radial Tachometer allows you to monitor engine speed without adding a handlebar-mounted tach. The gauge features an easy-to-read digital speedometer within a spun aluminum gauge face and an analog tachometer that sweeps the perimeter of the face. This digital reading can be easily toggled between odometer/tripmeter data, miles-to-empty, clock and MPH or km/h to simplify cross-border travel. The unit mounts in the stock dash opening and is a direct plug-in installation. Mileage reinstatement resides in the vehicle's ECM so initial mileage will be uploaded at the time of gauge installation. Dealer flash required before installation.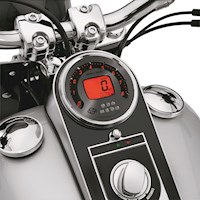 This item can only be used on the following Harley-Davidsons.
DYNA

FXDF (2012)
FXDF103 (2012)

Softail

FLS (2012-2016)
FLS103 (2012-2013)
FLSS (2016)
FLSTC (2011-2016)
FLSTC103 (2012-2013)
FLSTC-ANN (2013)
FLSTF (2011-2016)
FLSTF103 (2012-2013)
FLSTFB (2011-2016)
FLSTFB103 (2012-2013)
FLSTFB-ANN (2013)
FLSTFBS (2016)
FLSTN (2011-2016)
FLSTN103 (2012-2013)
FLSTNSE (2014-2015)
FLSTSB (2011)
FLSTSE2 (2011)
FLSTSE3 (2012)
FXS (2011-2013)
FXS103 (2012-2013)