Spun Aluminum Face Speedometer
Part Number:
67313-05A
Add a touch of luxury and style to your dash. First featured on the '04 Screamin' Eagle® Deuce™ and Electra Glide® motorcycles, these spun aluminum metal-faced gauges offer a rich contrast to a chrome console or black inner fairing surface. The gauges feature subtle Harley-Davidson racing orange backlighting for a unique nighttime look. Mileage reinstatement is available through your Dealer. Fits '04-'06 Dyna FXDWG, Softail and Road King and '06 Dyna FXD35 and '07 FXDC models.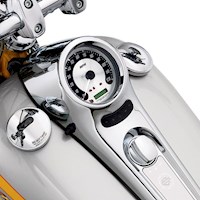 This item can only be used on the following Harley-Davidsons.
DYNA

FXDC (2007)
FXDI35 (2006)
FXDWG (2004-2005)
FXDWGI (2004-2005)

Softail

FLST (2006)
FLSTC (2004-2006)
FLSTCI (2004-2006)
FLSTF (2004-2006)
FLSTFI (2004-2006)
FLSTFSE (2005)
FLSTFSE2 (2006)
FLSTI (2006)
FLSTN (2005-2006)
FLSTNI (2005-2006)
FLSTSC (2005-2006)
FLSTSCI (2005-2006)
FXST (2004-2006)
FXSTB (2004-2006)
FXSTBI (2004-2006)
FXSTD (2004-2006)
FXSTDI (2004-2006)
FXSTDSE2 (2004)
FXSTI (2004-2006)
FXSTS (2004-2006)
FXSTSI (2004-2006)

Touring

FLHR (2004-2006)
FLHRCI (2004-2006)
FLHRI (2004-2006)
FLHRS (2004-2006)
FLHRSI (2004-2006)