Genuine Harley-Davidson® Oil Filters
Part Number:
63796-77A
Filter features cured resin impregnated paper which removes harmful foreign particles from the oil. End caps and thermal setting adhesive provide positive seals, preventing bypassing of contaminant-laden oil. Fits all XB and Buell models. Fits '80-'98 FLT, FLHT, FLHR, '82-'94 FXR, '84-'98 Softail®, '84-'95 FXRP, FLHTP, late '84-later XL and '08-'13 XR models.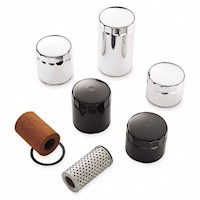 This item can only be used on the following Harley-Davidsons.
Sportster

XL1200C (2000-2019)
XL1200CX (2016-2020)
XL1200L (2006-2011)
XL1200N (2007-2012)
XL1200NS (2018-2020)
XL1200R (2004-2008)
XL1200S (2000-2003)
XL1200T (2014-2017)
XL1200V (2012-2016)
XL1200X (2010-2020)
XL1200XS (2018-2019)
XL50 (2007)
XL883 (2004-2008)
XL883C (2000-2009)
XL883L (2005-2019)
XL883N (2009-2020)
XL883R (2002-2003, 2005-2007)
XLH1200 (2000-2003)
XLH883 (2000-2003)
XLH883HUG (2000-2003)
XR1200 (2009-2010)
XR1200X (2011-2012)