Oil Change Kits - SYN3® – SAE 20W50 - 5 Quarts + Black Oil Filter
Part Number:
62600084
Everything you need for a complete engine oil and filter change. Select Harley-Davidson approved Screamin' Eagle® SYN3® Synthetic Lubricant or genuine H-D® 360 Motorcycle Oil, and choose a black or chrome SuperPremium5-micron Oil Filter. Package includes Oil, Superpremium5 Oil Filter, and replacement O-Ring.
Fits '17-later Milwaukee Eight engine equipped models.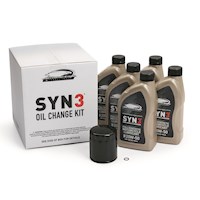 This item can only be used on the following Harley-Davidsons.
DYNA

FLDE (2018-2020)
FXBB (2018-2020)
FXBR (2018-2019)
FXBRS (2018-2020)
FXDRS (2019-2020)
FXFB (2018-2019)
FXFBS (2018-2020)
FXLR (2018-2020)
FXLRS (2020)

Other

FLFB (2018-2019)
FLFBS (2018-2020)

Softail

FLSB (2018-2020)
FLSL (2018-2020)

Touring

FLHC (2018-2020)
FLHCS (2018-2020)
FLHR (2017-2020)
FLHRXS (2017-2020)
FLHT (2019-2020)
FLHTCU (2017-2019)
FLHTCUTGSE (2020)
FLHTK (2017-2020)
FLHTKL (2017-2019)
FLHTKSE (2017-2020)
FLHX (2017-2020)
FLHXS (2017-2020)
FLHXSE (2017-2020)
FLTRK (2020)
FLTRU (2017-2019)
FLTRX (2017-2020)
FLTRXS (2017-2020)
FLTRXSE (2018-2019)

Trike

FLHTCUTG (2017-2020)
FLRT (2017-2020)