Radiator Cover with Spoiler
Part Number:
57621-06DH
This Radiator Cover incorporates a scooped chin spoiler and chrome-plated perforated screen for a racy, custom appearance. Manufactured from high-impact composite materials, the insert covers the Original Equipment center section and stretches the color of the radiator end caps across the front of the bike. Kit includes the necessary hardware for quick and easy installation.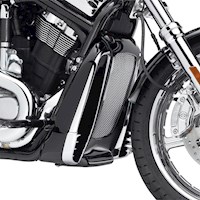 This item can only be used on the following Harley-Davidsons.
V-Rod

VRSCA (2002-2006, 2000)
VRSCA 98 (2003-2004, 2006)
VRSCA98 (2005)
VRSCAW (2007-2008)
VRSCAW 105 (2007)
VRSCB (2003-2005)
VRSCB 98 (2003-2005)
VRSCD (2006-2008)
VRSCD 105 (2006-2007)
VRSCDX (2007-2008)
VRSCR (2006-2007)
VRSCR 105 (2006-2007)
VRSCSE (2005)
VRSCSE2 (2006)
VRSCX (2007)