Kahuna Collection Hand Grips - Gloss Black
Part Number:
56100332
Understated but powerful, The Kahuna Collection Controls feature a gloss black surfaces surrounded by rich, black rubber that provides grip and traction where needed. These gloss black controls are styled to complement other Kahuna Collection Accessories and the Hand Grips feature a rich red Bar & Shield logo that completes the look.
Fits '16-'17 FXDLS and '16-later Softail models,'11-'12 FLSTSE, '14-'15 FLSTNSE, '13-'14 FXSBSE, '16-'17 FXSE and '08-later Touring (except '18-later FLTRXSE) and Trike models.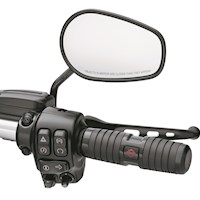 This item can only be used on the following Harley-Davidsons.
DYNA

FLDE (2018-2020)
FXBB (2018-2020)
FXBR (2018-2019)
FXBRS (2018-2020)
FXDLS (2016-2017)
FXDRS (2019-2020)
FXFB (2018-2019)
FXFBS (2018-2020)
FXLR (2018-2020)
FXLRS (2020)

Other

FLFB (2018-2019)
FLFBS (2018-2020)

Softail

FLS (2016-2017)
FLSB (2018-2020)
FLSL (2018-2020)
FLSS (2016-2017)
FLSTC (2016-2017)
FLSTF (2016-2017)
FLSTFB (2016)
FLSTFBS (2016-2017)
FLSTN (2016-2017)
FLSTNSE (2014-2015)
FLSTSE (2010)
FLSTSE2 (2011)
FLSTSE3 (2012)
FXSB (2016-2017)
FXSBSE (2013-2014)
FXSE (2016-2017)

Touring

FLHC (2018-2020)
FLHCS (2018-2020)
FLHR (2008-2020)
FLHRC (2008-2013)
FLHRSE4 (2008)
FLHRSE5 (2013)
FLHRSE6 (2014)
FLHRXS (2017-2020)
FLHT (2008-2009, 2019-2020)
FLHTC (2008-2013)
FLHTCU (2008-2019)
FLHTCUL (2015-2016)
FLHTCUSE3 (2008)
FLHTCUSE4 (2009)
FLHTCUSE5 (2010)
FLHTCUSE6 (2011)
FLHTCUSE7 (2012)
FLHTCUSE8 (2013)
FLHTCUTGSE (2020)
FLHTK (2010-2020)
FLHTKL (2015-2019)
FLHTKSE (2014-2020)
FLHX (2008-2020)
FLHXS (2014-2020)
FLHXSE (2015-2020, 2010)
FLHXSE2 (2011)
FLHXSE3 (2012)
FLHXXX (2010-2011)
FLTR (2008-2009)
FLTRK (2020)
FLTRSE3 (2009)
FLTRU (2016-2019, 2011-2013)
FLTRUSE (2011, 2015-2016)
FLTRX (2010-2013, 2015-2020)
FLTRXS (2015-2020)
FLTRXSE (2012)
FLTRXSE2 (2013)

Trike

FLHTCUTG (2009-2020)
FLRT (2015-2020)