Premium Ride Hand-Adjustable touring Shocks
Part Number:
54000008
Experience the ultimate in superior ride quality with these Premium Touring Shocks. These shocks utilize a single tube, nitrogen charged emulsion design. The design offers enhanced compression and rebound damping compared to the Original Equipment-style air adjustable shocks. This provides a controlled yet plush ride with much less bottoming. Larger chambers (40mm diameter pistons and 14mm rods) allow these shocks to react more quickly to impacts. This keeps the tires tracking while minimizing harshness transmitted through the frame. A simple knob behind the left saddlebag allows the rider to conveniently modify the spring preload via a hydraulic adjuster. Available in Standard Ride Height and Low Ride Height versions.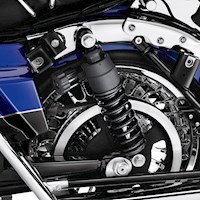 This item can only be used on the following Harley-Davidsons.
Touring

FLHR (2009-2016)
FLHRC (2009-2013)
FLHT (2009)
FLHTC (2009-2013)
FLHTCU (2009-2016)
FLHTCUSE4 (2009)
FLHTCUSE5 (2010)
FLHTCUSE6 (2011)
FLHTCUSE7 (2012)
FLHTCUSE8 (2013)
FLHTK (2010-2016)
FLHTKSE (2014-2016)
FLHX (2009-2016)
FLHXS (2014-2016)
FLHXSE (2010, 2015-2016)
FLHXSE2 (2011)
FLHXSE3 (2012)
FLTR (2009)
FLTRSE3 (2009)
FLTRU (2011-2013, 2016)
FLTRUSE (2015-2016, 2011)
FLTRX (2015-2016, 2010-2013)
FLTRXS (2015-2016)
FLTRXSE (2012)
FLTRXSE2 (2013)