NARROW BAND BILLET COLLECTION controls
Part Number:
50978-99A
A raw look wrapped in class. This collection features a deep knurled surface for a positive grip and slim black rubber stripes over the chrome finish for stylish contrast. The mirror-chrome finish over the knurled surface scatters light to grab the attention of fellow riders. Fits '15-later XG models.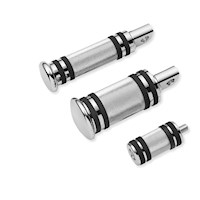 This item can only be used on the following Harley-Davidsons.
DYNA

FLD (2012-2014)
FLD103 (2012-2013)
FXD (2007-2010, 2000-2005)
FXDB (2007-2014)
FXDBI (2006)
FXDBP (2014)
FXDBP103 (2013)
FXDC (2007-2014, 2005)
FXDC ANV (2008)
FXDC-ANN (2013)
FXDCI (2005-2006)
FXDF (2008-2014)
FXDF103 (2012-2013)
FXDFSE (2009)
FXDFSE2 (2010)
FXDI (2004-2006)
FXDI35 (2006)
FXDL (2007-2009, 2000-2005)
FXDL ANV (2008)
FXDLI (2004-2006)
FXDS (2000)
FXDSE (2007)
FXDSE2 (2008)
FXDSE2 ANV (2008)
FXDWG (2010-2014, 2007, 2000-2005)
FXDWG ANV (2008)
FXDWG103 (2012-2013)
FXDWG2 (2001)
FXDWG3 (2002)
FXDWGI (2004-2006)
FXDX (2000-2005)
FXDXI (2004-2005)
FXDXT (2001-2003)
FXR4 (2000)

Softail

FLS (2012-2014)
FLS103 (2012-2013)
FLST (2006)
FLSTC (2000-2014)
FLSTC ANV (2008)
FLSTC103 (2012-2013)
FLSTC-ANN (2013)
FLSTCI (2001-2006)
FLSTF (2000-2014)
FLSTF ANV (2008)
FLSTF103 (2012-2013)
FLSTFB (2010-2014)
FLSTFB103 (2012-2013)
FLSTFB-ANN (2013)
FLSTFI (2001-2006)
FLSTFI-ANN (2005)
FLSTFSE (2005)
FLSTFSE2 (2006)
FLSTI (2006)
FLSTN (2005-2014)
FLSTN ANV (2008)
FLSTN103 (2012-2013)
FLSTNI (2005-2006)
FLSTNSE (2014)
FLSTS (2000-2003)
FLSTSB (2008-2011)
FLSTSC (2005-2007)
FLSTSCI (2005-2006)
FLSTSE (2010)
FLSTSE2 (2011)
FLSTSE3 (2012)
FLSTSI (2001-2003)
FXCW (2008-2009)
FXCWC (2008-2011)
FXST (2000-2007)
FXSTB (2000-2009)
FXSTBI (2001-2006)
FXSTC (2000, 2007-2010)
FXSTC ANV (2008)
FXSTD (2000-2007)
FXSTDI (2001-2006)
FXSTDSE (2003)
FXSTDSE2 (2004)
FXSTI (2001-2006)
FXSTS (2000-2006)
FXSTSI (2001-2006)
FXSTSSE (2007)
FXSTSSE2 (2008)
FXSTSSE2 A (2008)
FXSTSSE3 (2009)

Sportster

XL1200 (2000-2003)
XL1200C (2000-2010)
XL1200C AN (2008)
XL1200L (2006-2010)
XL1200L AN (2008)
XL1200N (2007-2012)
XL1200R (2004-2008)
XL1200S (2000-2003)
XL1200X (2010-2014)
XL50 (2007)
XL883 (2004-2008)
XL883C (2000-2009)
XL883HUG (2000-2003)
XL883L (2005-2006, 2011-2014)
XL883N (2009-2014)
XL883R (2005-2007, 2002-2003)
XLH883 (2000-2003)
XR1200 (2009-2010)
XR1200X (2011)

Street

Touring

FLHR4 (2008)
FLHRS (2003-2007)
FLHRS/1 (2007)
FLHRSE3 (2007)
FLHRSE4 (2008)
FLHRSE4 AN (2008)
FLHRSE5 (2013)
FLHRSE5-AN (2013)
FLHRSE6 (2014)
FLHRSEI (2002)
FLHRSEI2 (2003)
FLHRSI (2004-2006)
FLTRSE3 (2009)
FLTRSEI (2000, 2002)
FLTRSEI2 (2001)

V-Rod

VRSCA (2002-2006, 2000)
VRSCA 98 (2006, 2003-2004)
VRSCA98 (2005)
VRSCAW (2007-2010)
VRSCAW 105 (2007-2008)
VRSCAW ANV (2008)
VRSCAWA (2008)
VRSCAWA 10 (2008)
VRSCAWA AN (2008)
VRSCB (2003-2005)
VRSCB 98 (2003-2005)
VRSCD (2006-2008)
VRSCD 105 (2006-2008)
VRSCDA (2008)
VRSCDX (2007-2014)
VRSCDX 105 (2008)
VRSCDX105 (2013)
VRSCDXA (2008)
VRSCDXA 10 (2008)
VRSCF (2009-2014)
VRSCF105 (2013)
VRSCR (2006-2007)
VRSCR 105 (2006-2007)
VRSCSE (2005)
VRSCSE2 (2006)
VRSCX (2007)