Brass Collection Hand and Foot Controls
Part Number:
50500787
The authentic alternative to the typical chrome-covered or blacked-out look, the Harley-Davidson Brass Collection delivers a warm, hand-crafted look to your custom ride. These minimalistic "living finish" components make a garage-built styling statement and are the ideal addition to your stripped-down bobber or café motorcycle. Artistically manufactured from solid brass, these components feature a natural antique finish that will age and patina when exposed to the elements. Unlike bright polished and plated brass trim, these heritage-finished components are subtle additions to your ride and don't compete for attention with the rest of the bike. Brass Collection components are factory treated with wax to slow the aging process, and are shipped with cleaning and care instructions. Fits '15-later XG models (except XG750A).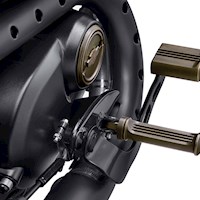 This item can only be used on the following Harley-Davidsons.
DYNA

FLD (2012-2016)
FXD (2007-2010, 2000-2005)
FXDB (2007-2017)
FXDBI (2006)
FXDC (2007-2014, 2005)
FXDCI (2005-2006)
FXDF (2008-2017)
FXDFSE (2009)
FXDFSE2 (2010)
FXDI (2004-2006)
FXDI35 (2006)
FXDL (2000-2005, 2014-2017, 2007-2009)
FXDLI (2004-2006)
FXDLS (2016-2017)
FXDS CONV (2000)
FXDSE (2007)
FXDSE2 (2008)
FXDWG (2000-2005, 2010-2017, 2007-2008)
FXDWG2 (2001)
FXDWG3 (2002)
FXDWGI (2004-2006)
FXDX (2000-2005)
FXDXI (2004-2005)
FXDXT (2001-2003)

Softail

FLS (2012-2017)
FLSS (2016-2017)
FLST (2006)
FLSTC (2000-2017)
FLSTCI (2001-2006)
FLSTF (2000-2017)
FLSTFB (2010-2016)
FLSTFBS (2016-2017)
FLSTFI (2001-2006)
FLSTFSE (2005)
FLSTFSE2 (2006)
FLSTI (2006)
FLSTN (2005-2017)
FLSTNI (2005-2006)
FLSTNSE (2014-2015)
FLSTS (2000-2003)
FLSTSB (2008-2011)
FLSTSC (2005-2007)
FLSTSCI (2005-2006)
FLSTSE (2010)
FLSTSE2 (2011)
FLSTSE3 (2012)
FLSTSI (2001-2003)
FXCW (2008-2009)
FXCWC (2008-2011)
FXS (2011-2013)
FXSB (2013-2017)
FXSBSE (2013-2014)
FXSE (2016-2017)
FXST (2000-2007)
FXSTB (2000-2009)
FXSTBI (2001-2006)
FXSTC (2007-2010)
FXSTD (2000-2007)
FXSTDI (2001-2006)
FXSTDSE (2003)
FXSTDSE2 (2004)
FXSTI (2001-2006)
FXSTS (2000-2006)
FXSTSI (2001-2006)
FXSTSSE (2007)
FXSTSSE2 (2008)
FXSTSSE3 (2009)

Sportster

XL1200C (2000-2017)
XL1200CX (2016-2017)
XL1200L (2006-2011)
XL1200N (2007-2012)
XL1200R (2004-2008)
XL1200S (2000-2003)
XL1200T (2014-2017)
XL1200V (2012-2016)
XL1200X (2010-2017)
XL50 (2007)
XL883 (2004-2008)
XL883C (2000-2009)
XL883L (2005-2017)
XL883N (2009-2017)
XL883R (2002-2003, 2005-2007)
XLH1200 (2000-2003)
XLH883 (2000-2003)
XLH883HUG (2000-2003)
XR1200 (2009-2010)
XR1200X (2011-2012)

Street

XG500 (2015-2020)
XG750 (2015-2020)
XG750A (2017-2020)

Touring

FLHR (2000-2020)
FLHRC (2007-2013)
FLHRCI (2000-2006)
FLHRI (2000-2006)
FLHRS (2004-2007)
FLHRSE3 (2007)
FLHRSE4 (2008)
FLHRSE5 (2013)
FLHRSE6 (2014)
FLHRSEI (2002)
FLHRSEI2 (2003)
FLHRSI (2004-2006)
FLHRXS (2017-2020)
FLHT (2000-2009, 2019-2020)
FLHTC (2007-2013, 2000-2005)
FLHTCI (2000-2006)
FLHTCSE (2004)
FLHTCSE2 (2005)
FLHTCU (2007-2019)
FLHTCUI (2000-2006)
FLHTCUL (2015-2016)
FLHTCUSE (2006)
FLHTCUSE2 (2007)
FLHTCUSE3 (2008)
FLHTCUSE4 (2009)
FLHTCUSE5 (2010)
FLHTCUSE6 (2011)
FLHTCUSE7 (2012)
FLHTCUSE8 (2013)
FLHTCUTGSE (2020)
FLHTI (2003-2006)
FLHTK (2010-2020)
FLHTKL (2015-2019)
FLHTKSE (2014-2020)
FLHX (2006-2020)
FLHXI (2006)
FLHXS (2014-2020)
FLHXSE (2010, 2015-2020)
FLHXSE2 (2011)
FLHXSE3 (2012)
FLHXXX (2010-2011)
FLTR (2007-2009, 2000-2002)
FLTRI (2000-2006)
FLTRK (2020)
FLTRSE3 (2009)
FLTRSEI (2000)
FLTRSEI2 (2001)
FLTRU (2016-2019, 2011-2013)
FLTRUSE (2011, 2015-2016)
FLTRX (2015-2020, 2010-2013)
FLTRXS (2015-2020)
FLTRXSE (2018-2019, 2012)
FLTRXSE2 (2013)

Trike

FLHTCUTG (2009-2020)
FLRT (2015-2020)

V-Rod

VRSCA (2002-2006)
VRSCAW (2007-2010)
VRSCB (2004-2005)
VRSCD (2006-2008)
VRSCDX (2007-2017)
VRSCDX ANV (2012)
VRSCF (2009-2017)
VRSCR (2006-2007)
VRSCSE (2005)
VRSCSE2 (2006)
VRSCX (2007)