AGITATOR CUSTOM WHEELS – GLOSS BLACK - front
Part Number:
43300442
Get ready to stir things up. The 7 forward-facing spokes of these Agitator Wheels dig deep into the soul for maximum custom impact. Spiraling from the custom hub, the flat profile spokes blend to the edge of the rim, minimizing the profile of the wheel and adding an open look that's easy to see around the matching Floating Brake Rotors. Available in your choice of finish, these wheels will set the stage for your custom direction. Requires separate purchase of model-specific Wheel Installation Kit, Sprocket hardware and Brake Rotor-specific hardware. See I-sheet for details. Installation may require separate purchase of wheel size and model-specific tire.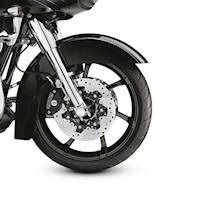 This item can only be used on the following Harley-Davidsons.
Touring

FLHR (2009-2020)
FLHRC (2009-2013)
FLHRXS (2017-2020)
FLHT (2019-2020, 2009)
FLHTC (2009-2013)
FLHTCU (2009-2019)
FLHTCUL (2015-2016)
FLHTCUSE4 (2009)
FLHTCUSE5 (2010)
FLHTCUSE6 (2011)
FLHTK (2010-2020)
FLHTKL (2015-2019)
FLHX (2009-2020)
FLHXS (2014-2020)
FLHXSE (2010)
FLHXSE2 (2011)
FLTR (2009)
FLTRK (2020)
FLTRSE3 (2009)
FLTRU (2016-2019, 2011-2013)
FLTRUSE (2011)
FLTRX (2010-2013, 2015-2020)
FLTRXS (2015-2020)