Brake Caliper Kit - Red
Part Number:
41300157
Dress your bike in the latest high-performance look. Brilliant red calipers make a powerful visual statement and set your bike apart from the ordinary. Manufactured from Original Equipment components for proven performance, these calipers will add a stylish touch to the stock bike or add the perfect finish to a complete custom equipped with chrome or blacked-out wheels, rotors and fork sliders.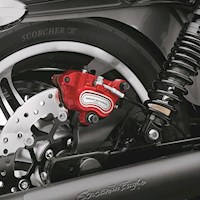 This item can only be used on the following Harley-Davidsons.
DYNA

FLD (2012-2016)
FXD (2008-2010)
FXDB (2008-2017)
FXDC (2008-2014)
FXDF (2008-2017)
FXDFSE (2009)
FXDFSE2 (2010)
FXDL (2014-2017, 2008-2009)
FXDLS (2016-2017)
FXDSE2 (2008)
FXDWG (2010-2017, 2008)

Softail

FLS (2012-2017)
FLSS (2016-2017)
FLSTC (2008-2017)
FLSTF (2008-2017)
FLSTFB (2010-2016)
FLSTFBS (2016-2017)
FLSTN (2008-2017)
FLSTNSE (2014-2015)
FLSTSB (2008-2011)
FLSTSE (2010)
FLSTSE2 (2011)
FLSTSE3 (2012)
FXCW (2008-2009)
FXCWC (2008-2011)
FXS (2011-2013)
FXSB (2013-2017)
FXSBSE (2013-2014)
FXSE (2016-2017)
FXSTB (2008-2009)
FXSTC (2008-2010)
FXSTSSE2 (2008)
FXSTSSE3 (2009)