SILENCER COLLECTION controls
Part Number:
35286-10
Make your own noise. Unique electroless nickel plating provides this collection with a warm, burnished finish that looks like you've been twisting this throttle for years. The precision drilled surfaces bite against the sole of your boot for positive grip and provide the gun barrel look. Fits '15-later XG models.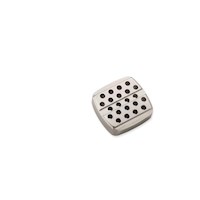 This item can only be used on the following Harley-Davidsons.
DYNA

FLD (2012-2016)
FLDE (2018-2019)
FXBB (2018-2019)
FXBR (2018-2019)
FXBRS (2018-2019)
FXD (2000-2005, 2007-2010)
FXDB (2007-2017)
FXDBI (2006)
FXDC (2007-2014, 2005)
FXDCI (2005-2006)
FXDF (2008-2017)
FXDFSE (2009)
FXDFSE2 (2010)
FXDI (2004-2006)
FXDI35 (2006)
FXDL (2000-2005, 2007-2009, 2014-2017)
FXDLI (2004-2006)
FXDLS (2016-2017)
FXDRS (2019)
FXDS CONV (2000)
FXDSE (2007)
FXDSE2 (2008)
FXDWG (2010-2017, 2000-2005, 2007-2008)
FXDWG2 (2001)
FXDWG3 (2002)
FXDWGI (2004-2006)
FXDX (2000-2005)
FXDXI (2004-2005)
FXDXT (2001-2003)
FXFB (2018-2019)
FXFBS (2018-2019)
FXLR (2018-2019)
FXR4 (2000)

Other

FLFB (2018-2019)
FLFBS (2018-2019)

Softail

FLS (2012-2017)
FLSB (2018-2019)
FLSL (2018-2019)
FLSS (2016-2017)
FLST (2006)
FLSTC (2000-2017)
FLSTCI (2001-2006)
FLSTF (2000-2017)
FLSTFB (2010-2016)
FLSTFBS (2016-2017)
FLSTFI (2001-2006)
FLSTFSE (2005)
FLSTFSE2 (2006)
FLSTI (2006)
FLSTN (2005-2017)
FLSTNI (2005-2006)
FLSTNSE (2014-2015)
FLSTS (2000-2003)
FLSTSB (2008-2011)
FLSTSC (2005-2007)
FLSTSCI (2005-2006)
FLSTSE (2010)
FLSTSE2 (2011)
FLSTSE3 (2012)
FLSTSI (2001-2003)
FXCW (2008-2009)
FXCWC (2008-2011)
FXS (2011-2013)
FXSB (2013-2017)
FXSBSE (2013-2014)
FXSE (2016-2017)
FXST (2000-2007)
FXSTB (2000-2009)
FXSTBI (2001-2006)
FXSTC (2007-2010)
FXSTD (2000-2007)
FXSTDI (2001-2006)
FXSTDSE (2003)
FXSTDSE2 (2004)
FXSTI (2001-2006)
FXSTS (2000-2006)
FXSTSI (2001-2006)
FXSTSSE (2007)
FXSTSSE2 (2008)
FXSTSSE3 (2009)

Sportster

XL1200C (2000-2019)
XL1200CX (2016-2019)
XL1200L (2006-2011)
XL1200N (2007-2012)
XL1200NS (2018-2019)
XL1200R (2004-2008)
XL1200S (2000-2003)
XL1200T (2014-2017)
XL1200V (2012-2016)
XL1200X (2010-2019)
XL1200XS (2018-2019)
XL50 (2007)
XL883 (2004-2008)
XL883C (2000-2009)
XL883L (2005-2019)
XL883N (2009-2019)
XL883R (2002-2003, 2005-2007)
XLH1200 (2000-2003)
XLH883 (2000-2003)
XLH883HUG (2000-2003)
XR1200 (2009-2010)

Street

XG500 (2015-2019)
XG750 (2015-2019)
XG750A (2017-2019)

Touring

FLHC (2018-2019)
FLHCS (2018-2019)
FLHR (2000-2019)
FLHRC (2007-2013)
FLHRCI (2000-2006)
FLHRI (2000-2006)
FLHRS (2004-2007)
FLHRSE3 (2007)
FLHRSE4 (2008)
FLHRSE5 (2013)
FLHRSE6 (2014)
FLHRSEI (2002)
FLHRSEI2 (2003)
FLHRSI (2004-2006)
FLHRXS (2017-2019)
FLHT (2000-2009)
FLHTC (2007-2013, 2000-2005)
FLHTCI (2000-2006)
FLHTCSE (2004)
FLHTCSE2 (2005)
FLHTCU (2007-2019)
FLHTCUI (2000-2006)
FLHTCUL (2015-2016)
FLHTCUSE (2006)
FLHTCUSE2 (2007)
FLHTCUSE3 (2008)
FLHTCUSE4 (2009)
FLHTCUSE5 (2010)
FLHTCUSE6 (2011)
FLHTCUSE7 (2012)
FLHTCUSE8 (2013)
FLHTI (2003-2006)
FLHTK (2010-2019)
FLHTKL (2015-2019)
FLHTKSE (2014-2019)
FLHX (2006-2019)
FLHXI (2006)
FLHXS (2014-2019)
FLHXSE (2010, 2015-2019)
FLHXSE2 (2011)
FLHXSE3 (2012)
FLHXXX (2010-2011)
FLTR (2007-2009, 2000-2002)
FLTRI (2000-2006)
FLTRSE3 (2009)
FLTRSEI (2000)
FLTRSEI2 (2001)
FLTRU (2011-2013, 2016-2019)
FLTRUSE (2015-2016, 2011)
FLTRX (2015-2019, 2010-2013)
FLTRXS (2015-2019)
FLTRXSE (2012, 2018-2019)
FLTRXSE2 (2013)

Trike

FLHTCUTG (2009-2019)
FLRT (2015-2019)

V-Rod

VRSCA (2002-2005)
VRSCB (2004-2005)
VRSCD (2006-2008)
VRSCR (2006-2007)
VRSCSE (2005)