Chrome Heel Shifter
Part Number:
33600325
Add the convenience of a heel shifter to your footboard-equipped Touring model. This traditional motorcycle Heel Shifter Lever permits you to upshift with a downward tap of your boot heel – eliminating the need to wedge your toe under the forward lever and reducing wear on the top of your boot. Kit includes the chrome- plated or gloss black heel shift lever, extended shifter shaft, shifter peg and mounting hardware.
Fits '01-later Touring and Trike models.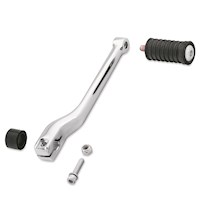 This item can only be used on the following Harley-Davidsons.
Touring

FLHR (2005-2020)
FLHRC (2007-2013)
FLHRCI (2005-2006)
FLHRI (2005-2006)
FLHRS (2005-2007)
FLHRSE3 (2007)
FLHRSE4 (2008)
FLHRSE5 (2013)
FLHRSE6 (2014)
FLHRSI (2005-2006)
FLHRXS (2017-2020)
FLHT (2019-2020, 2005-2009)
FLHTC (2005, 2007-2013)
FLHTCI (2005-2006)
FLHTCSE2 (2005)
FLHTCU (2007-2019)
FLHTCUI (2005-2006)
FLHTCUL (2015-2016)
FLHTCUSE (2006)
FLHTCUSE2 (2007)
FLHTCUSE3 (2008)
FLHTCUSE4 (2009)
FLHTCUSE5 (2010)
FLHTCUSE6 (2011)
FLHTCUSE7 (2012)
FLHTCUSE8 (2013)
FLHTCUTGSE (2020)
FLHTI (2005-2006)
FLHTK (2010-2020)
FLHTKL (2015-2019)
FLHTKSE (2014-2020)
FLHX (2006-2020)
FLHXI (2006)
FLHXS (2014-2020)
FLHXSE (2015-2020, 2010)
FLHXSE2 (2011)
FLHXSE3 (2012)
FLHXXX (2010-2011)
FLTR (2007-2009)
FLTRI (2005-2006)
FLTRK (2020)
FLTRSE3 (2009)
FLTRU (2011-2013, 2016-2019)
FLTRUSE (2011, 2015-2016)
FLTRX (2015-2020, 2010-2013)
FLTRXS (2015-2020)
FLTRXSE (2012, 2018-2019)
FLTRXSE2 (2013)

Trike

FLHTCUTG (2009-2020)
FLRT (2015-2020)