Screamin' Eagle® Stage I 
Air Cleaner Kit
Part Number:
29400240
The Stage I Air Cleaner Kit provides increased airflow to boost the power of your fuel-injected model. Kit features a one-piece cast back plate with integral breather and mounting brackets for simplified installation and a synthetic washable air cleaner element that does not require oiling. Available with a brilliant chrome or black back plate, this round air cleaner element can be dressed with most Original Equipment or accessory air cleaner covers. Or choose to flaunt your performance gains with the open element look, and finish it off with a Rain Sock Kit P/N 28728-10 and custom Air Cleaner Trim from one of the Harley-Davidson® decorative collections. This kit includes air cleaner, back plate, breather and all required hardware. Street legal when used with stock mufflers. All EFI-equipped models require ECM calibration* (priced separately). Fits '08-'15 Softail models (except CVO Softail). Also fits '08-later Dyna® models equipped with accessory Air Cleaner Cover. Also fits '04-07 EFI Dyna, '01-'07 EFI Softail, and '02-'07 EFI Touring. FXS, FLS, FLSTSB and '13-later FXDB models require separate purchase of Gasket P/N 29591-99 and Screw P/N 29703-00.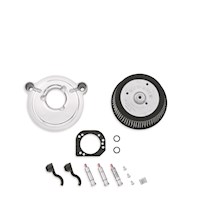 This item can only be used on the following Harley-Davidsons.
DYNA

FLD (2012-2016)
FXD (2008-2010)
FXDB (2008-2017)
FXDBI (2006)
FXDC (2008-2014)
FXDCI (2005-2006)
FXDF (2008-2017)
FXDI (2004-2006)
FXDI35 (2006)
FXDL (2014-2017, 2008-2009)
FXDLI (2004-2006)
FXDWG (2010-2017, 2008)
FXDWGI (2004-2006)
FXDXI (2004-2005)

Softail

FLS (2012-2015)
FLSTC (2008-2015)
FLSTCI (2001-2006)
FLSTF (2008-2015)
FLSTFB (2010-2015)
FLSTFI (2001-2006)
FLSTI (2006)
FLSTN (2008-2015)
FLSTNI (2005-2006)
FLSTSB (2008-2011)
FLSTSCI (2005-2006)
FLSTSI (2001-2003)
FXCW (2008-2009)
FXCWC (2008-2011)
FXS (2011-2013)
FXSB (2013-2015)
FXSTB (2008-2009)
FXSTBI (2001-2006)
FXSTC (2008-2010)
FXSTDI (2001-2006)
FXSTI (2001-2006)
FXSTSI (2001-2006)

Touring

FLHRCI (2002-2006)
FLHRI (2002-2006)
FLHRSI (2004-2006)
FLHTCI (2002-2006)
FLHTCUI (2002-2006)
FLHTI (2003-2006)
FLHXI (2006)
FLTRI (2002-2006)