Screamin' Eagle Air Cleaner Back Plate Kits
Part Number:
29319-08
Finished in brilliant chrome or wrinkle black, these replacement back plates complement the finish of your engine. Cast back plate design features integral breather and mounting brackets for simplified installation. Fits '08-'13 Touring and Trike models.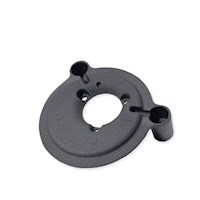 This item can only be used on the following Harley-Davidsons.
DYNA

FLD (2012-2016)
FXD (2008-2010)
FXDB (2008-2017)
FXDC (2008-2014)
FXDF (2008-2017)
FXDFSE (2009)
FXDFSE2 (2010)
FXDL (2008-2009, 2014-2017)
FXDSE2 (2008)
FXDWG (2010-2017, 2008)

Touring

FLHR (2008-2013)
FLHRC (2008-2013)
FLHRSE4 (2008)
FLHRSE5 (2013)
FLHT (2008-2009)
FLHTC (2008-2013)
FLHTCU (2008-2013)
FLHTCUSE3 (2008)
FLHTCUSE4 (2009)
FLHTCUSE5 (2010)
FLHTCUSE6 (2011)
FLHTCUSE7 (2012)
FLHTCUSE8 (2013)
FLHTK (2010-2013)
FLHX (2008-2013)
FLHXSE (2010)
FLHXSE2 (2011)
FLHXSE3 (2012)
FLHXXX (2010-2011)
FLTR (2008-2009)
FLTRSE3 (2009)
FLTRU (2011-2013)
FLTRUSE (2011)
FLTRX (2010-2013)
FLTRXSE (2012)
FLTRXSE2 (2013)

Trike