Willie G Skull Collection
Part Number:
25700469
Add a little attitude to your ride. Styled to complement Harley-Davidson® Skull accessory items, the menacing raised skull with black-filled eyes leaps from a field of chrome. The surrounding "Harley-Davidson Motorcycles" script is the perfect finishing touch. This complete collection of engine covers dresses your bike for a true custom look.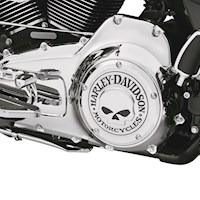 This item can only be used on the following Harley-Davidsons.
Touring

FLHR (2007-2020)
FLHRC (2007-2013)
FLHRS (2007)
FLHRSE3 (2007)
FLHRSE4 (2008)
FLHRSE5 (2013)
FLHRSE6 (2014)
FLHRXS (2017-2020)
FLHT (2019-2020, 2007-2009)
FLHTC (2007-2013)
FLHTCU (2007-2019)
FLHTCUL (2015-2016)
FLHTCUSE2 (2007)
FLHTCUSE3 (2008)
FLHTCUSE4 (2009)
FLHTCUSE5 (2010)
FLHTCUSE6 (2011)
FLHTCUSE7 (2012)
FLHTCUSE8 (2013)
FLHTCUTGSE (2020)
FLHTK (2010-2020)
FLHTKL (2015-2019)
FLHTKSE (2014-2020)
FLHX (2007-2020)
FLHXS (2014-2020)
FLHXSE (2015-2020, 2010)
FLHXSE2 (2011)
FLHXSE3 (2012)
FLHXXX (2010-2011)
FLTR (2007-2009)
FLTRK (2020)
FLTRSE3 (2009)
FLTRU (2016-2019, 2011-2013)
FLTRUSE (2015-2016, 2011)
FLTRX (2010-2013, 2015-2020)
FLTRXS (2015-2020)
FLTRXSE (2012, 2018-2019)
FLTRXSE2 (2013)

Trike

FLHTCUTG (2009-2020)
FLRT (2015-2020)