Electrical Contact Lubricant
Part Number:
11300004
Ideal for use on multi-pin connectors, bulb bases, and battery terminals, this specially formulated Electrical Contact Lubricant offers excellent film strength that is resistant to water (including salt water). Prevents fretting corrosion in connectors that often occurs with temperature variations and vibration. Safe for use on tin, nickel, copper, brass, gold and silver contacts, and the formula is compatible with electrical connector plastics and elastomers.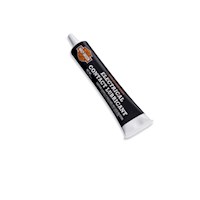 This item can only be used on the following Harley-Davidsons.
DYNA

FLD (2012-2016)
FLDE (2018-2020)
FXBB (2018-2020)
FXBR (2018-2019)
FXBRS (2018-2020)
FXD (2000-2005, 2007-2010)
FXDB (2007-2017)
FXDBI (2006)
FXDC (2007-2014, 2005)
FXDCI (2005-2006)
FXDF (2008-2017)
FXDFSE (2009)
FXDFSE2 (2010)
FXDI (2004-2006)
FXDI35 (2006)
FXDL (2007-2009, 2014-2017, 2000-2005)
FXDLI (2004-2006)
FXDLS (2016-2017)
FXDRS (2019-2020)
FXDS CONV (2000)
FXDSE (2007)
FXDSE2 (2008)
FXDWG (2007-2008, 2000-2005, 2010-2017)
FXDWG2 (2001)
FXDWG3 (2002)
FXDWGI (2004-2006)
FXDX (2000-2005)
FXDXI (2004-2005)
FXDXT (2001-2003)
FXFB (2018-2019)
FXFBS (2018-2020)
FXLR (2018-2020)
FXLRS (2020)
FXR4 (2000)

Other

FLFB (2018-2019)
FLFBS (2018-2020)

Softail

FLS (2012-2017)
FLSB (2018-2020)
FLSL (2018-2020)
FLSS (2016-2017)
FLST (2006)
FLSTC (2000-2017)
FLSTCI (2001-2006)
FLSTF (2000-2017)
FLSTFB (2010-2016)
FLSTFBS (2016-2017)
FLSTFI (2001-2006)
FLSTFSE (2005)
FLSTFSE2 (2006)
FLSTI (2006)
FLSTN (2005-2017)
FLSTNI (2005-2006)
FLSTNSE (2014-2015)
FLSTS (2000-2003)
FLSTSB (2008-2011)
FLSTSC (2005-2007)
FLSTSCI (2005-2006)
FLSTSE (2010)
FLSTSE2 (2011)
FLSTSE3 (2012)
FLSTSI (2001-2003)
FXCW (2008-2009)
FXCWC (2008-2011)
FXS (2011-2013)
FXSB (2013-2017)
FXSBSE (2013-2014)
FXSE (2016-2017)
FXST (2000-2007)
FXSTB (2000-2009)
FXSTBI (2001-2006)
FXSTC (2007-2010)
FXSTD (2000-2007)
FXSTDI (2001-2006)
FXSTDSE (2003)
FXSTDSE2 (2004)
FXSTI (2001-2006)
FXSTS (2000-2006)
FXSTSI (2001-2006)
FXSTSSE (2007)
FXSTSSE2 (2008)
FXSTSSE3 (2009)

Sportster

XL1200C (2000-2019)
XL1200CX (2016-2020)
XL1200L (2006-2011)
XL1200N (2007-2012)
XL1200NS (2018-2020)
XL1200R (2004-2008)
XL1200S (2000-2003)
XL1200T (2014-2017)
XL1200V (2012-2016)
XL1200X (2010-2020)
XL1200XS (2018-2019)
XL50 (2007)
XL883 (2004-2008)
XL883C (2000-2009)
XL883L (2005-2019)
XL883N (2009-2020)
XL883R (2005-2007, 2002-2003)
XLH1200 (2000-2003)
XLH883 (2000-2003)
XLH883HUG (2000-2003)
XR1200 (2009-2010)
XR1200X (2011-2012)

Street

XG500 (2015-2020)
XG750 (2015-2020)
XG750A (2017-2020)

Touring

FLHC (2018-2020)
FLHCS (2018-2020)
FLHR (2000-2020)
FLHRC (2007-2013)
FLHRCI (2000-2006)
FLHRI (2000-2006)
FLHRS (2004-2007)
FLHRSE3 (2007)
FLHRSE4 (2008)
FLHRSE5 (2013)
FLHRSE6 (2014)
FLHRSEI (2002)
FLHRSEI2 (2003)
FLHRSI (2004-2006)
FLHRXS (2017-2020)
FLHT (2019-2020, 2000-2009)
FLHTC (2007-2013, 2000-2005)
FLHTCI (2000-2006)
FLHTCSE (2004)
FLHTCSE2 (2005)
FLHTCU (2007-2019)
FLHTCUI (2000-2006)
FLHTCUL (2015-2016)
FLHTCUSE (2006)
FLHTCUSE2 (2007)
FLHTCUSE3 (2008)
FLHTCUSE4 (2009)
FLHTCUSE5 (2010)
FLHTCUSE6 (2011)
FLHTCUSE7 (2012)
FLHTCUSE8 (2013)
FLHTCUTGSE (2020)
FLHTI (2003-2006)
FLHTK (2010-2020)
FLHTKL (2015-2019)
FLHTKSE (2014-2020)
FLHX (2006-2020)
FLHXI (2006)
FLHXS (2014-2020)
FLHXSE (2010, 2015-2020)
FLHXSE2 (2011)
FLHXSE3 (2012)
FLHXXX (2010-2011)
FLTR (2007-2009, 2000-2002)
FLTRI (2000-2006)
FLTRK (2020)
FLTRSE3 (2009)
FLTRSEI (2000)
FLTRSEI2 (2001)
FLTRU (2016-2019, 2011-2013)
FLTRUSE (2011, 2015-2016)
FLTRX (2015-2020, 2010-2013)
FLTRXS (2015-2020)
FLTRXSE (2012, 2018-2019)
FLTRXSE2 (2013)

Trike

FLHTCUTG (2015-2020, 2009-2013)
FLRT (2015-2020)

V-Rod

VRSCA (2002-2006)
VRSCAW (2007-2010)
VRSCB (2004-2005)
VRSCD (2006-2008)
VRSCDX (2007-2017)
VRSCDX ANV (2012)
VRSCF (2009-2017)
VRSCR (2006-2007)
VRSCSE (2005)
VRSCSE2 (2006)
VRSCX (2007)