Chrome Forward Control Footrest Support
Part Number:
33695-03
Upgrade the look of your stock black forward controls with these mirror-finish chrome brackets. Manufactured from Original Equipment components to ensure proper fit and function, these polished and plated support brackets add a custom touch to your Dyna Wide Glide® motorcycle.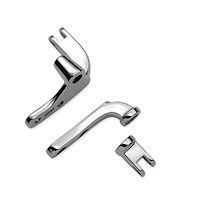 Dit product kan alleen gebruikt worden met de volgende Harley-Davidsons.
DYNA

FXD (2003-2005, 2007-2010)
FXDB (2007-2017)
FXDBI (2006)
FXDC (2005, 2007-2014)
FXDCI (2005-2006)
FXDF (2008-2017)
FXDFSE (2009)
FXDFSE2 (2010)
FXDI (2004-2006)
FXDI35 (2006)
FXDL (2007-2009, 2003-2005)
FXDLI (2004-2006)
FXDSE (2007)
FXDSE2 (2008)
FXDWG (2007-2008, 2010-2017, 2003-2005)
FXDWGI (2004-2006)
FXDX (2003-2005)
FXDXI (2004-2005)
FXDXT (2003)