Dominion Collection Oil Fill Insert, Outer Primary - Bronze
Part Number:
25700806
Required when installing a Dominion Collection Outer Primary Cover, these interchangeable brushed aluminum, brushed black, bronze powder-coated or brushed orange inserts allow you to customize the Primary Cover to match your styling direction.
Fits '18-later Softail models equipped with Dominion Outer Primary Cover. Includes gasket and screws.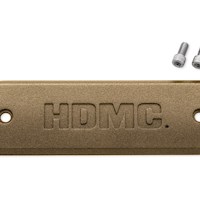 Dit product kan alleen gebruikt worden met de volgende Harley-Davidsons.
DYNA

FLDE (2018-2020)
FXBB (2018-2020)
FXBR (2018-2019)
FXBRS (2018-2020)
FXDRS (2019-2020)
FXFB (2018-2019)
FXFBS (2018-2020)
FXLR (2018-2020)
FXLRS (2020)

Other

FLFB (2018-2019)
FLFBS (2018-2020)

Softail

FLSB (2018-2020)
FLSL (2018-2020)

Touring

FLHC (2018-2020)
FLHCS (2018-2020)